Inside the Rift: Secret Location's Sleepy time at Comic-Con
The Toronto-based digital agency unveiled its Oculus Rift experience project for Fox's Sleepy Hollow at Comic-Con in San Diego.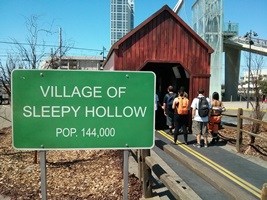 One of the coolest things about Comic-Con in San Diego is that you don't have to have a pass to take part in some of the event's most entertaining experiences.
Aside from costume-spotting and selfie-taking, non-pass-holders can wander downtown San Diego and take part in any number of large-scale experiential activitations set up by broadcasters and studios.
And this year, one of the most popular was helmed by Toronto's Secret Location.
According to James Milward, the agency's founder and executive producer, fans were lining up for at least an hour and a half on Friday afternoon to experience the Sleepy Hollow Oculus Rift project, created by  Secret Location for Fox Digital.
"It's one of the better marketing things for our company, just as much as it is for the show – so many people have seen what we're capable of," James Milward, founder and executive producer of Secret Location, told Playback Daily from Comic-Con.
Getting attention for a new show at the TV-marketing circus that is Comic-Con is not easy, and Fox Digital was looking for a way to break through the clutter for the season two launch of Sleepy Hollow.
Secret Location pitched the idea of working with Oculus Rift to create a virtual reality experience linked to the supernatural series.
Working closely with the series' K/O Paper Products production team, Secret Location sought to embed the experience as closely as possible with the show's DNA by flying down to North Carolina to shoot production footage and working with the writers to develop the project's narrative.. Secret Location also consulted directly with Oculus Rift while working on the project.
At Comic-Con, the Sleepy Hollow Oculus Rift project was housed in a makeshift barn outside the Con, serving the dual purpose of huge attention-getting activiation and providing authentic context for the experience. The narrative of the Oculus Rift project includes an encounter where users get their heads cut off, and Secret Location built an app where users can share a souvenir photo of their dismembered head via social media. While the premise is somewhat gory, it's part of a bigger plan to expand the reach of the project, Milward said.
"The idea is to use Comic-Con to amplify the social presence for the show. You're maybe only going to get three, five thousand people over the weekend, but if they are all sharing it out over their social networks you can quite large impressions out of it," Milward said.
In addition to ramping up the social presence of the project, unveiling the Oculus Rift project at Comic-Con means it was unveiled to a target audience at a high-profile event.
"If we just made an Oculus Rift thing for the sake of it, and put it out on the Internet, it wouldn't matter to anybody. But because we were able to do it at a location that has a lot of attention…it's a really nice way to get it in front of people, and make sure people understand the meaning of it," Milward said.