Canada shines with coproduction cred in Sicily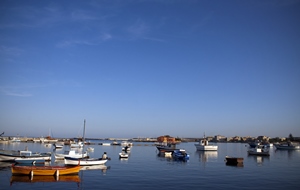 Martin Katz and producing partner Karen Wookey came to Sicily last week to persuade potential Italian partners and financiers to join their side and back two of their film and TV projects as possible coproductions.
So Katz, a veteran of international coproductions with Prospero Pictures, began his address to a coproduction roundtable during the 14th Festival Internazionazionale Cinema di Frontiera in Marzamemi, by commending Italians for inspiring the current golden age of TV.
"This explosion of long-form drama, of TV series in the last decade that changed how we think of audiovisual production, it has so much to do with Italy," Katz flattered the Sicilian audience, while American film producers and Italian film commissioners aiming to get up to speed on tax credits and other coproduction building blocks looked on.
Starting with HBO's The Sopranos, and then successive cable dramas like Rome and The Borgias set the table for global dramas to travel engage audiences everywhere.
"The world has a great hunger for stories that are very local and at the same time very international," Katz argued.
But while applauding Italians for changing global TV, the veteran Canadian producer also insisted that the international coproduction model often behind global dramas remains an uphill battle needing everyone to pull together.
"It takes the force of will and political motivation to develop this industry, not just with actors and directors and writers, but with carpenters and painters and electricians and make-up artists and drivers," Katz insisted.
Katz and Wookey are developing as possible Italy-Canada coproductions two projects, the movie Black Madonna, about two Sicilian brothers who reunite in late life and weigh up their past, and a historical TV drama in the works.
When Wookey took the microphone in Marzamemi's restored 17th century tuna factory, she insisted future historical dramas aiming to mirror the ratings success of Game of Thrones and The Tudors could easily be produced on location in Marzamemi with less computer generated effects than would be required elsewhere.
"If you take the people and the tables and chairs out of the square, you could shoot entire series here," Wookey said as Sicily looks to mirror the success of nearby Malta, Morocco, Croatia, Ireland and Iceland in attracting North American and other foreign producers to shoot locally.
To that end, the Sicilian government bureaucrats and film commissioners have put up millions of dollars to attract producers to to take advantage of spectacular locations and upcoming regional tax credits by bringing their projects to the region.
But how to make partnerships for epic fantasy dramas underpinned by Canada's long-standing coproduction treaty work?
Italy offers a 25% film tax credit for foreign productions, capped at $10 million, with Paul Haggis's Third Person among foreign films to tap the subsidy.
That lowers a project's budget when shot in Italy.
At the same time, the Italian tax incentive is non-refundable, which means it reduces a foreign producer's tax charges when shooting in Italy. But unlike a refundable tax credit, the Italian tax break leaves producers with no eventual cold cash in their hands after taxes owed are paid.
And that real money is routinely used as collateral for a bank loan or other interim financing.
Talk of tax credits and other financial subsidies to increase budgetary savings aside, Katz, Wookey and fellow producers came away from the Marzamemi festival impressed with the locations on offer by the southeast Sicilian region.
"I love this town (Marzamemi). You could film the entire movie in this town, right here," New York-based film producer Vito Bruno, who was scouting in Sicily last week for Mary Mother of Christ, a movie prequel to The Passion of the Christ.
Lionsgate Entertainment and Mary Aloe of Aloe Entertainment in Los Angeles are backing the movie, as is Texas evangelist Joel Osteen.
At the same time, Mary, should it shoot in Sicily, will be more of a service production, using local talent as guns for hire.
That's in contrast to the Canadians, which are proposing more pure-play coproductions, where partners share the risk and resources on projects and anticipate one another's needs for efficiency and added savings.
"You have such a magical place, it's a no-brainer. Why wouldn't you come here. So we have to make this happen," Wookey told the roundtable delegates, as she threw down the challenge of collaboration and creativity between Canadian and yet more coproduction partners.
- Marzamemi photo courtesy of Shutterstock