Peace Point eyes more int'l sales with season 2 of Cabin Pressure
With series stars Colin and Justin maximized across Cottage Life properties, the season-two greenlight gives extra heft to the show's global sales strategy, says exec producer Les Tomlin.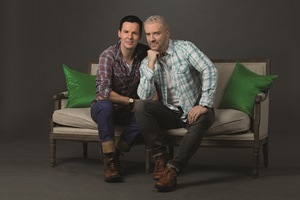 Blue Ant Media's Cottage Life channel and OUTtv have picked up a second season of Peace Point Entertainment's Colin and Justin's Cabin Pressure.
The second season of the series will feature 13 half-hour episodes, and is currently in pre-production. The series, which follows the exploits of designers Colin McAllister and Justin Ryan as they renovate a lakeside home, is currently slated for a spring 2015 premiere on Cottage Life and will later air on OUTtv.
In addition to being a testament to the success of the first season of the show, a second-season renewal can also mean good news for international sales, said Les Tomlin, CEO of Peace Point Entertainment and executive producer on the series.
"It's even more important for us, because we have our distribution division – having 26 half-hours for international sales is much more appealing for international buyers," Tomlin told Playback Daily, emphasizing the added value a second season can have for broadcasters investing in promotional campaigns.
Peace Point Rights handles the international distribution of Colin and Justin's Cabin Pressure. The first season of the show has already been sold into Spain, Norway and Hungary.
In addition to being one of Cottage Life's top-rated shows, Colin and Justin's Cabin Pressure also did well across other Cottage Life properties including the website, magazine and trade show, said Marcia Martin, SVP original content at Blue Ant Media.
"For Cottage Life we look for great personalities that engage our audiences and Colin & Justin deliver on that for audiences," Martin told Playback Daily.