Next stop for Netflix: world domination?
As Netflix eyes expansion into France and seeks to reset the notion of original programming, chief Reed Hastings discusses the company's plans in an earnings call this week. (From Stream.)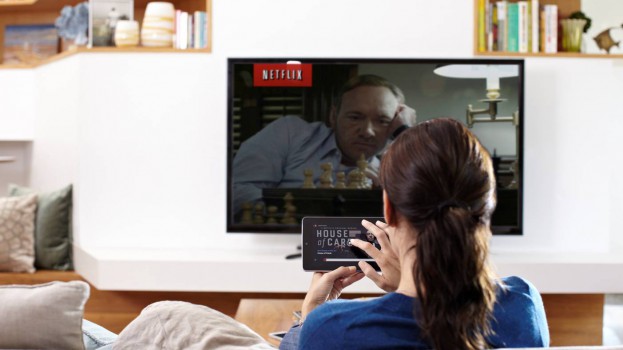 Each new international market comes with its own challenges, Netflix CEO Reed Hastings said Monday during a Q2 earnings call, but he's not shying away from any of them.
The company now has 13.8 million subscribers outside of the U.S., a 78% increase year-over-year, and plans to "further invest aggressively in global expansion." The World Cup didn't slow down the growth rate for the quarter ending June 30 as feared, with Netflix's number of total members surpassing 50 million. Total revenues for Q2 were $1.34 billion, about 25% above the revenues reported for the same period last year ($1.069 billion).
This September, Netflix will launch in six new European markets (Germany, France, Austria, Switzerland, Belgium and Luxembourg). In his Monday earnings call, Hastings outlined key points regarding Netflix' international expansion and how it is influencing the company's content pipeline.
What makes you so original?
Netflix series can be original to some markets and not others, with international releases making this an increasingly fluid concept. Take for example Breaking Bad — in the U.K. it's an original show, and in other territories it's considered a licensed show, said Ted Sarandos, chief content officer, during the call with investors.
New content can be even more complicated, he noted, citing the example of Better Call Saul, the spinoff of Breaking Bad that is set to premiere in the U.S. on AMC in early 2015: "We will premiere…Better Call Saul everywhere outside (of) North America on Netflix. So that's kind of an original show, kind of not for us in terms of how we treat it," Sarandos said.
As for investing in local original content, Sarandos pegs the consumer need to be "somewhere between 10% and 20%," while the majority of the content people want to watch still comes from Hollywood, he said.
Disney, Handler
Some recent deals are breaking new ground: Specifically, Netflix's pact with Disney for the Canadian market that gives the company exclusive pay-TV rights for first-run features, and a multi-pronged content deal with comedian Chelsea Handler.
The Disney output deal, which is an extension of a U.S. agreement, represents "a pretty big chunk of kids viewing" made even more significant with upcoming Star Wars and Marvel films.
"What's really interesting about the Canadian deal is that Disney has now moved that deal in the U.S. and Canada to one supplier, which has not been the historic norm," Sarandos said.  "And we are also going to line up the window so our Canadian subscribers can see the movies at the exact same time as U.S. subscribers."
Sarandos added that it's a priority for the company to continue to narrow the window between theatrical and pay TV release so they can get the flicks to consumers faster.
After all, viewer habits have changed, and it's something Netflix seems to keep in mind even as their company increasingly acts like a traditional media player rather than a disruptor.
Take the Chelsea Handler deal for example — Sarandos hinted that her 2016 talk show won't be in a format viewers are used to when it comes to "late-night" programming.
"We just filmed her first comedy special in Chicago and she's going to do four more in 2015. The show itself, you should think about it (in the same) way that people are not watching scripted programming the way they used to, they're also not watching these late-night talk shows the way they used to. Meaning, they're not watching them at 11:30, they're watching them days, weeks, sometimes months later," Sarandos said.
"So what we are hoping to do with Chelsea and her team is create a show that's built closer to the way people are going to watch it, the way we have done with serialized dramas where we took out the commercial breaks and the cliffhangers, and really produce it the way people watch."
France, je t'aime
France, with its regulatory protections regarding the funding of local content, seems of particular interest to investors — and it's one market Netflix is starting to romance. (Canadian media players may want to take note of Netflix' strategy in France, as media stakeholders in this country call for the streaming service to invest in Cancon as a condition of operation here.)
"We're not really trying to get around anything – we want to invest in French society and French content," said Reed Hastings. "We want to be loved in France by French consumers because we understand French content, because we give it a bigger home, and because we're bringing some variety, like U.S. television shows, things that historically have been under-distributed."
The streaming service wants to be seen as a company that brings opportunity to the market, and is not there to harm it, added Sarandos.
"For all of that protectionism…The Mentalist is the most popular television show in France," he said. "We will employ French production employees and create great content in France, but as Reed said, for around the world."
Netflix currently works with Gaumont, a French prodco company that produces Hemlock Grove (which is shot in Canada) and is about to go into production with Narcos.  "A lot of our animation projects are coproductions with French production companies. So this is not new ground for us," Sarandos said.
Image: handout 
- From Stream