How Ingrid Veninger's 'sisterhood' spawned 6 scripts in 6 months
Now six Punk Films Femmes Lab participants have a date with Oscar winner Melissa Leo, who has first dibs on their creative output.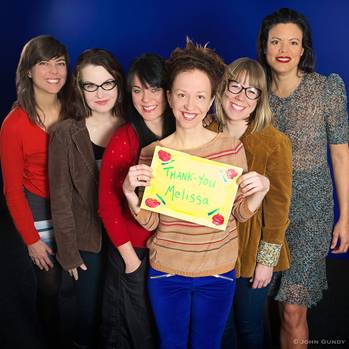 You've all been there: men and women seated round a table, in the boardroom or at a festival pitch session, as two tribes meeting, each seeming to eye the other uncomprehendingly.
In another setting, the women at the table might well control the room.
So that's just the setting Ingrid Veninger arranged for herself and five other women who have just completed the inaugural Punk Films Femmes Lab with six feature film scripts hammered out over six months.
Now they have a date with Oscar winning actress Melissa Leo for feedback.
Veninger told Playback Daily that she had little idea what to expect when launching her sisterhood of screenwriting six months ago.
But what she and her fellow collaborators – Danishka Esterhazy, Michelle Latimer, Sophie Deraspe, Mars Horodyski and Degrassi actor Anais Granofsky – found in their monthly screenwriting lab was everyone competed and collaborated, had empathy for one another and their emotions, especially as deadlines loomed, and how everyone worried about getting to the finish line on June 30 together.
What's more, none of the six women worked alike as they slogged mostly on their own to complete their scripts.
One of the film scribes worked from an outline, another read and re-read screenwriting how-to books, while others laid out or pinned 3 X 5 cards to a board.
But always there was a healthy competitiveness.
"When someone got their first act done, we would read it out loud and take on different characters and we would read the dialogue out loud," Veninger said.
"Each writer would come with different questions, and so it was a constructive session and never a tear-down," she added.
Sometimes there were creative impasses to overcome, as when Veninger had a January-to-March idea that changed dramatically in April as she started over.
The mid-point in the script writing proved just as terrifying for others in the lab.
"It was a sisterhood. [Writing] can be lonely and alienating. But every month we knew we were gathering," Veninger explained.
And eventually, they reached their collective goal together.
"On June 30, I filled a FedEx box with six scripts that went off to Melissa Leo," Veninger recalled.
The Hollywood actress at the 2013 Whistler Film Festival accepted a challenge to cough up $6,000 so six women could complete scripts for fiction features in six months, before attempting to make the pictures as directors.
To get there, the lab participants met each month with six feature film screenplays at various stages of completion.
Each session was hosted by a different Femme lab participant.
In March, the lab was led by Granofsky at Toronto's AGO, and in April it shifted to Montreal where Deraspe introduced the group to several female Montreal producers.
By May, they gathered at Horodyski's cottage and read scripts aloud for the first time.
Other months, they met at TIFF Bell Lightbox where Latimer invited First Nations storyteller and activist Lee Maracle to speak.
At the end of each meeting and month, each of the women declared what they would complete and bring for feedback the following month.
"It may only have been a film's title [or] a character's back-story. We were held accountable and we were committed to deliver," Veninger said of the experience.
And at the end of each month, Veninger also sent a brief update to Leo, who had no idea on what to expect from the Punk Films Femmes Lab participants.
She'd dropped $6,000 on the table in Whistler to back the venture, with only the promise of a first look at six scripts to be completed against a six-month deadline with creative carte blanche.
Leo also each month got back quickly to Veninger with encouraging words about aiming high and taking risks.
"She'd write be ambitious. Don't be afraid, don't be nice, don't bullshit, write from your gut," Veninger recalled.
Now all six women are headed to New York on July 31 to meet Leo, who has read all six scripts and promised notes from someone with a strong creative perspective.
Veninger ventures some of the scripts have roles Leo may want to perform, or she could help package the projects.