Michael Moore to topline TIFF doc conference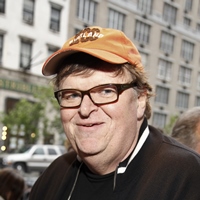 Famed doc director Michael Moore is set participate in a keynote conversation at the doc conference for the 39th edition of the Toronto International Film Festival, while Douglas Trumbull will headline the festival's industry conference.
Moore will be attending TIFF to mark the 25th anniversary of his documentary Roger and Me, and will participate in a keynote conversation at the doc conference moderated by TIFF Docs programmer Thom Powers.
In addition to Trumbull, speakers lined up for this year's industry conference include Stuart Ford, founder and CEO of IM Global, Fabien Riggall, founder of Secret Cinema and Silver Reel managing partner Claudia Bluemhuber.
Also announced this week: this year's Talent Lab will be led by prolific American producer Jim Stark (Coffee and Cigarettes) and French director Claire Denis (Beau travail).
Finally, the Asian Film Summit, which aims to connect Asian cinema and the West, will return to the Shangri-La Hotel on Sept. 9. Legendary East CEO Peter Loehr set to give the opening keynote speech at the event.
The festival will announce additional industry events and speakers in August.
- Michael More image courtesy of Shuttestock