David Bezmozgis starts production on own page-to-screen adaptation
Natasha and Other Stories will be shot entirely in Toronto throughout July and stars Alex Ozerov, Sasha Gordon and Deanna Dezmari. (Ozerov and Gordon pictured)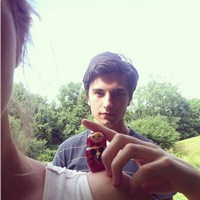 Canadian screenwriter/director David Bezmozgis has started the cameras rolling on Natasha, a big screen adaptation of a tale from his first published book, Natasha and Other Stories.
Production will run through July in Toronto for the indie feature, which stars Alex Ozerov, Sasha Gordon and Deanna Dezmari.
The feature is produced by Bill Marks and Deborah Marks, and is coproduced by Julia Rosenberg.
Natasha portrays a tragic love story involving a young slacker and the son of Russian immigrants and Natasha, the daughter of the Russian bride sent to marry Mark's uncle.
The feature, financed in part by Telefilm Canada, will be distributed in Canada by Mongrel Media.
Natasha and Other Stories was originally published in 2004 and was eventually translated into 15 languages.
Bezmozgis' previous movie credits include Victoria Day, a 2009 sexual awakening tale about a 16 year-old boy that starred Mark Rendall, Sergiy Kotelenets and Holly Deveaux, and had its world premiere in competition at Sundance.