Blue Ant Media opens New York sales office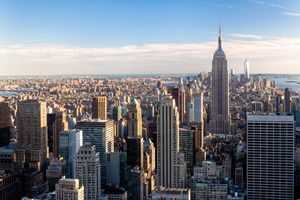 Blue Ant Media announced on Wednesday that it has launched a sales office in New York City to support its recent investment in L.A.-based Omnia Media, the third largest music-focused multi-channel network on YouTube.
The New York-based digital sales division will offer advertisers access to Blue Ant's more than 750 content creators it works with via its various MCNs covering such verticals as music (AUX Music Network), gaming (Square One) and style (Style Collective) that collectively generate over 800 million monthly views. Currently, about 50% of those views are coming from audiences stateside, said Ryan Fuss, SVP media solutions at Blue Ant Media.
"I think it just makes fiscal sense for us to be able to monetize those views from the U.S. versus having a Canadian team doing that," Fuss said. The opening of the New York location is also the company's first outside of Canada's borders.
"YouTube is agnostic of borders and transcends countries, so if we're going to be an international content company we need to establish a presence internationally," he added. Blue Ant plans to open more offices in the U.S., but Fuss declined to provide any additional details about future expansion.
Budweiser and Samsung have already signed on for custom marketing programs this summer on the AUX Music Network and Style Collective.
Jason Cason, the former director of partner development at Machinima, has been hired to head the east coast Blue Ant Media solutions team. He will be joined by account executive Jillian Bove, who until recently worked as senior director of digital sales at Style Coalition. The company expects to have about five people working out of the New York office within the next five to eight months.
Additionally, Blue Ant's Canadian music TV channel AUX is co-sponsoring a summer concert series in partnership with Canadian loyalty rewards program Scene, which will be promoted through a cross-platform content campaign across Blue Ant's owned and operated assets, including Omnia Media. The concerts will air on AUX and live-streamed on Aux and Scene's Facebook pages.
- from Stream, with files from Julianna Cummins 
Image courtesy of Shutterstock