HBO Canada tests binge strategy with Sensitive Skin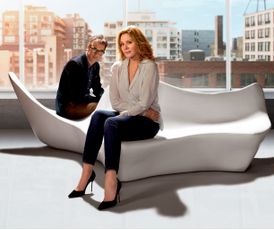 HBO Canada is appeasing the binge watchers with the launch plan for its upcoming original series Sensitive Skin, releasing all six episodes of the show online and on demand following the broadcast premiere of the first episode on July 20.
The show, which was executive produced by and stars Kim Cattrall and Don McKellar (who also directs), is the first broadcast program to be released in this way for the broadcaster in Canada, with subscribers having access to all episodes at once on TMN GO, Shaw Go, the Movie Central app, Bell TV app, Telus Optik on the go and via on demand platforms across Canada.
In a statement to Playback sister publication Media in Canada,  Justin Stockman, VP, specialty channels, Bell Media, said that the series' format made it a good fit for test-running a binge strategy.
"One of the many benefits of independent productions is the freedom to try different programming strategies," said Stockman. Sensitive Skin has a very cinematic quality – with a total run-time of just three hours – so it felt to us like the ideal candidate for binge viewing. Ultimately, this is a great opportunity to add value to a subscription to The Movie Network and HBO Canada."
In addition to being available online and on demand, the show will continue to air in its regular Sunday night timeslot at 8 p.m. until its finale on Sunday Aug. 24.
Sensitive Skin is about an aging couple who are both attempting to change their lives. Written by Bob Martin, the series is produced by Rhombus Media in association with Baby Cow Productions, The Movie Network, and Movie Central. Niv Fichman, Sari Friedland serve as producers on Sensitive Skin, with Cattrall, McKellar, Bob Martin, Henry Normal and Hugo Blick executive producing.
The series is distributed by Tricon Films & Television and produced in partnership with the Canada Media Fund (CMF) and Rogers Cable Network Fund. HBO Canada is owned and operated by Bell Media in Eastern Canada, airing through The Movie Network and Corus Entertainment, and airing through Movie Central in Western Canada.
- From Media in Canada