Production starts on season 10 of Canada's Worst Driver
What's the secret to 10 successful seasons? Not letting things get stale, says Proper TV's Guy O'Sullivan.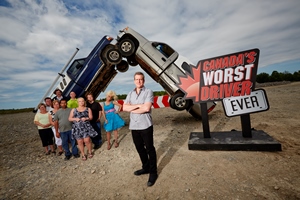 Production has started on the 10th season of Proper Television's Canada's Worst Driver following a greenlight from Discovery Canada for eight, one-hour episodes.
"I'm immensely proud that we've managed to do this for 10 years," Guy O'Sullivan, president of Proper Television told Playback Daily.  The 10th season of the show will be shot in under three weeks, O'Sullivan said.
Canada's Worst Driver was Proper Television's first commission, and continues to pull in strong ratings for Discovery Canada. The ninth season of the show averaged 591,000 viewers per episode (AMA, 2+) and increased its total season viewership by 12% over season eight.
O'Sullivan partly attributes the success of the U.K.-originated format in Canada to Proper Television's dedication to keeping each season fresh and casting a wide range of personalities to compete on the show.
"We have different challenges, different elements every single time," O'Sullivan said.
Broadcast details for the tenth season of the show will be announced at a later date. O'Sullivan serves as executive producer on Canada's Worst Driver. Blair Ricard is series producer.