Quebec industry raises alarm on reduced film tax credits
The cash-strapped Quebec government has cut corporate tax credits across the board by 20%, impacting the provincial film, TV and digital sectors.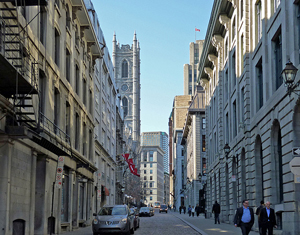 The cash-strapped Quebec government cutting its labour-based film tax credits by 20% has unleashed a wave of industry criticism.
"English-language production is very mobile and risks disappearing altogether if Quebec's tax credits aren't competitive enough with those of other jurisdictions such as Ontario, British Columbia or the state of New York," Janis Lundman, producer and co-president of the Quebec English-Language Production Council said Thursday in a statement.
On June 4, Quebec finance minister Carlos Leitao trimmed the province's refundable tax credit for film and TV production by one-fifth in value, from a 35% tax rebate to 28% when unveiling his latest provincial budget.
And the refundable tax credit for film production services went from 25% to 20%, again reduced by one-fifth in value.
These refundable tax credits, available beyond Quebec's 25% all-spend tax credit base for certain unrestricted categories, offset labour costs for multimedia and film content produced by a Quebec company, and may be increased when certain conditions are met by producers for bonuses.
But Quebec's newly elected government cutting corporate tax credits across the board by 20% has alarm bells ringing in the provincial film, TV and digital sectors.
"The trust relationship is at risk of being broken not only with the province's investors, but also with foreign investors, especially regarding the long-term sustainability of the programmes that draw them to Quebec," said Jean Ducharme, VP, operations at Technicolor in Montreal, said in his own statement.
In Quebec, as elsewhere, film tax credits grease the wheels of local and foreign production, even as governments everywhere look to cut costs where possible to balance budgets.
Hélène David, minister of culture and communications in Quebec, has asked industry players to submit briefs to a parliamentary commission on Quebec's tax system in September.
Quebec producers, urging that film tax credits have a multiplier effect in bolstering economic activity, urged the provincial government to abandon short-term thinking to achieve a zero deficit.
"Cutting back on tax credits in cinema and television won't reduce Quebec's deficit; it'll increase it!," producer Nicole Robert said in a statement.