Sky Jumpers lands on History
The Muse Entertainment Factual doc was commissioned by Shaw Media and shot on GoPros and Sony cameras.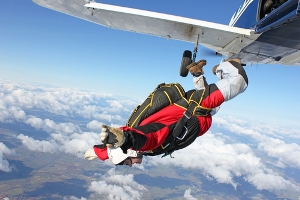 Extreme sports documentaries are hot, hot, hot right now and Montreal's Muse Entertainment is entering the arena with Sky Jumpers, a 90-minute doc following a team of sky divers.
Commissioned by Shaw Media in 2013 and airing on History on July 21, the doc features footage of the PD Factory Team skydivers shot over six years on 20 HD GoPros and Sony cameras. Additional footage was shot by a professional documentary team.
The budget for Sky Jumpers was under $500,000, Muse confirms, and it has been sold internationally by Muse Distribution International into global territories including France, Finland and Brazil.
Sky Jumpers is the first broadcast show to come out of Muse Entertainment's new Toronto-based Muse Entertainment Factual division.
The film was co-directed and written by Hedy Korbee, with Peter Gombos serving as co-director. The documentary was executive produced by Ann Harbron and Michael Prupas of Muse Entertainment for Shaw Media.
Stock image courtesy of Shutterstock