WolfCop opens to $30K B.O.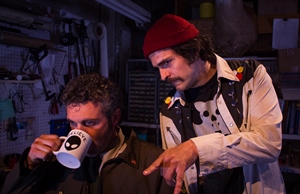 The early buzz for the fuzz brought WolfCop's opening weekend box office to $30,000 on six screens across Canada, for a per-screen average of $5,000.
The premiere will be followed by the CineCoup werewolf comedy expanding this weekend to Toronto, Hamilton, Halifax and Winnipeg. In its opening weekend, WolfCop screened in theaters in Regina, Moose Jaw, Saskatoon, Calgary, Edmonton and Vancouver.
Raven Banner managing partner James Fler reports strong interest among U.S. buyers for the Saskatchewan-made movie with financing from a film competition, with a deal for Lowell Dean's picture to be announced shortly.
Deals have already been done for the U.K. with StudioCanal, Germany's Ascot Elite, Shochiku in Japan, Accent in Australia and MovieCloud in Taiwan.
After the current theatrical release via Cineplex, Raven Banner will distribute home entertainment and digital platforms in Canada.
Correction: The headline on an earlier version of this story said WolfCop's box office earnings over opening weekend were $30,000 from six screens in Saskatchewan. The movie also screened in Calgary, Edmonton and Vancouver. Playback regrets the error.