Perfect Storms, Project-M win best-of-genre Rockie Awards
As well, Tassie Cameron is recognized for her work on Rookie Blue with the innovative producer award at the Banff World Media Festival.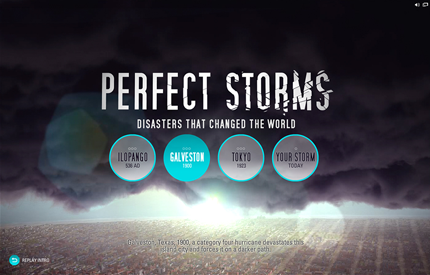 Secret Location's Perfect Storms Interactive and Productions Babel's Project-M were among the Canadians taking home best-of-genre awards for the  2014 Rockie Awards Program Competition.
The best-of-genre awards were presented during a luncheon on Tuesday at the Banff World Media Festival. The winners of the category awards for the Rockie Awards Program Competition were announced on Monday, with the winning projects moving on to the final round of judging for the best-of-genre prizes.
The award winners are:
Best in Digital
Perfect Storms Interactive (Canadian / English)
Produced by Secret Location in association with Shaw Media, Entertainment One
Executive Producers: James Milward, Zach Feldberg, Steve Gamester
Honorable mention
Convos with my 2-year-old (Canada / English)
Produced by CocoMilk Productions in association with Warmland Films
Executive Producer: Matthew Clarke
Best in Francophone
Project-M (Canada / French)
Produced by Productions Babel
Executive Producers: Marco Frascarelli, Roberto Mei, Eric Piccoli
Best in Scripted
Doctor Who (U.K. / English)
Produced by BBC Cymru Wales
Executive Producers: Steven Moffat, Faith Penhale
Honorable mention
The Big Bang Theory (U.S. / English)
Produced by Chuck Lorre Productions in association with Warner Bros. Television
Executive Producers: Chuck Lorre, Steven Molaro, Bill Prady
Best in unscripted
Colors, 4 Desires (South Korea / Korean)
Produced by Korean Broadcasting System
Executive Producers: Hanseok Kim
Honorable mention
We Were Children (Canada / English)
Produced by eOne, Eagle Vision, National Film Board
In Association with Aboriginal Peoples Television Network
Executive Producers: Loren Mawhinney, Laszlo Barna, Kyle Irving
Best in Kids and Youth
My Mad Fat Diary (U.K. / English)
Produced by Tiger Aspect, Drama Republic Production for E4
Executive Producers: Roanna Benn, Greg Brenman
Honorable mention
Comuter Kids 2 (Denmark / Danish)
Produced by DR and Griff Film
Executive Producers: DR and Wadt Thomsen
Best in Entertainment
Inside No. 9 (U.K. / English)
Produced by BBC Comedy Production London
Executive Producer: Jon Plowman
Honorable mention
To This Day (Canada / English)
Produced by Giant Ant, in association with Shane Koyczan
Executive Producer: Leah Nelson
Breakthrough Entertainment Award of Excellence in Kids and Animation
Lego Legends of Chima (Denmark / English)
Produced by M2Film, in association with LEGO
Executive Producers: Lotte Kronborg, Ole Holm Christensen, Torsten Jacobsen
Deluxe Award of Achievement in Post-Production
Bill Goddard, Take 5 Productions
Bell Media National Fellowship Award of Distinction
Jessie Gabe
Award of Excellence in Business and Entertainment
Discovery Channel
Sea to Sky Innovative Producer Award
Tassie Camerom
Executive producer, Rookie Blue