Bell Media, BBC America order Iron Belly to script
Director Jonathan Sobol and Darius Films' Nicholas Tabarrok discuss their move into cable drama with Iron Belly, a new project coproduced with L.A.'s Electus. (Sobol pictured)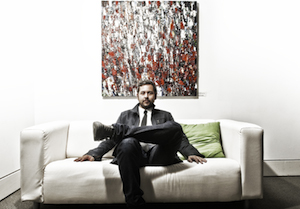 "It started out as a feature concept that didn't quite fit," says writer-director Jonathan Sobol (The Art of the Steal) of his newest project, Iron Belly.
Inspired by a family story, Sobol was struggling to write a script about 19th century trans-oceanic prisoner transport ships when he had a chance meeting with writer-showrunner Jeremy Boxen (Lost Girl, End Game) to riff on film ideas.
In hearing the issues Sobol was having, Boxen had a simple solution: make it a TV show.
"It was too big, too sprawling, too labyrinthian – what we wanted to do with the characters was so complicated that it needed more time," explained Sobol. "It was clearly more of a TV show. It gives that room to grow and stretch and paint a far more detailed world with characters that don't reach a satisfactory conclusion in two hours."
Frequent Sobol collaborator Darius Films signed on to produce the project, soon joined by U.S.-based studio Electus. And at Banff this week, the two companies announced that Iron Belly is in development with Bell Media and BBC America (Orphan Black) with a script order from the networks.
The series is being written as a 10-episode historical drama following Captain Byron Gibbons, a "relentlessly ambitious empire-builder" and Irish prisoner Cormac O'Brien as they travel on a prisoner-transport ship from Ireland to Australia. The hook is the on-board drama, which on such ships ranged from "impeccably well-run and other times barbaric, sadistic and cruel," Sobol describes.
The goal is to structure the series as an international coproduction, and although Sobol and Darius Films producer Nicholas Tabarrok are quick to point out that the series stands on its own as a creative concept, the recent success of series such as History's Vikings has opened doors.
"I don't look at the market and say 'oh this is successful, I want to do a version of that.' I've never done film or TV that way. But yes, in terms of selling the show, as a financial model the success of Vikings does help," Tabarrok explains.
What both Sobol and Tabarrok agree on is that the move into sophisticated cable dramas is a refreshing one.
"What I love about television, which is such a foreign concept coming from the feature film world, is that you can sell an idea," reflects Tabarrok. "In feature films, unless you're Spielberg, the idea of going in and saying here's the idea and this is how we see it going – it just doesn't happen. So that's really refreshing, exciting and new for me."
Sobol is quick to (affably) point out that the team's sales tactics have so far been "a little bit more than just selling an idea."
"We took it out with a fairly developed visual treatment and a detailed outline, it wasn't just selling that one-liner ['Downton Abbey meets Deadwood on a boat'], and I think that really worked well for us," he explains. "The response to our pitch has just been fantastic. We did so much background work… copious amount of research, we brought on historical experts and did a ton of legwork. So, for me, the actual writing process has been easier for me than a feature."
Iron Belly is executive produced by John Pollak, president, Electus International, Chris Grant, CEO of Electus and Nicholas Tabarrok, of Darius Films.
Jonathan Sobol and Jeremy Boxen are represented by The Alpern Group.
CORRECTION: The original version of this story incorrectly stated that HBO Canada had ordered Iron Belly script; the correct reference is Bell Media. Playback regrets the error.