How Canadian TV is getting serious in tough times
APTN's Blackstone is the type of tough drama with difficult subject matter that may signal a turnaround for Canadian broadcasters.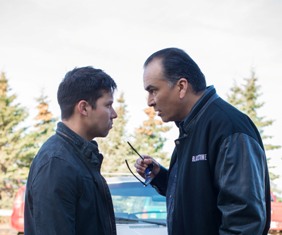 Canadian TV in recent years took a page from the Hollywood script and produced ambitious dramas with international talent, financing partners and appeal.
The result was slickly produced genre series like Orphan Black, Saving Hope and Motive – police procedurals, medical dramas and supernatural thrillers with heroes and storylines that are homegrown for Hollywood.
But the increased sophistication and diversity of Canadian TV has allowed a return to a focus on recognizably Canadian, and decidedly quality dramas. Watershed series like Corner Gas and Flashpoint had Canadian TV audiences no longer waiting for the next popular U.S. drama or comedy.
Instead, they were suddenly willing to taste new homegrown shows with local casts and storylines, and stick with them as fans.
Now Canadian primetime is adding newer, edgier and more locally focused dramas to its roster, including the cash-strapped CBC in preliminary talks to air the APTN drama Blackstone.
The CBC has elsewhere commissioned eclectic, darker fare for its upcoming 2014-15 schedule, including the 13-part 1869 western drama Strange Empire, about a caravan of women forced to make new lives for themselves in a frontier Alberta-Montana town, and created by Durham County screenwriter Laurie Finstad.
The pubcaster has also green-lit Camp X, a true-life drama from the creators of Flashpoint about young Canadians, Americans and Brits training to be Second World War covert agents on the shores of Lake Ontario.
It's all a world away from other homemade dramas that recognize Canadian locations and landmarks only in passing, are set in Anywhere U.S.A., or are costume dramas shot in Europe and posted in Toronto, along with other creative elements added here.
The CBC doesn't own these latest edgy dramas it has commissioned, but is betting on possible programming successes once they are on air to raise the attention of primetime audiences, in much the same way Rogers Media is placing a similar, albeit more expensive bet on NHL hockey.
Meanwhile, Blackstone represents the kind of challenging dramatic fare that can win over audiences otherwise faced with look-a-like local adaptations of global reality franchises or a surplus of legal, police and medical dramas on rivals networks.
The strategy is covering large tracts of dramatic territory with ripped-from-the-headlines storylines.
"There are two ways that a residential school story can go. There's a story that is a story about the effects of residential schools, and a story about the experiences of residential schools," Blackstone actor Jennifer Podemski said of the dramatic set-up for the series uncovering the corrosive impact of Canada's former residential schools system on native Canadians by shooting characters in and out of jail.
Here prison becomes a metaphor for Christian residential schools where young aboriginal children were removed from their families and held and often abused in soul-destroying isolation that aimed to erase their ancestral roots.
"What we're seeing here are the very deep, traumatic effects, residual and multi-generational," Podemski says of the escalating drama during the upcoming fourth season of Blackstone, without spoiling any viewer's fun by revealing plotlines.
Carmen Moore, who reprises her role as Leona Stoney on the upcoming fourth season, says Blackstone continues to reveal hidden truths about Canada's past, while also engaging viewers with a sudsy drama.
"It's a very delicate balance. Essentially Blackstone is a TV series, it is meant to be entertainment, first and foremost," Moore said. "But we want to talk about some serious issues that are taking place on reservations, in Canada and the U.S. as well," she added.
As a real-life aboriginal drama, Blackstone differs from Hollywood in not portraying native Canadians as simple victims of a war with the white man. The Canadian drama spends as much time portraying real-life corruption and calamities on a fictional First Nation reserve.
"We've always taken risks on this show. This [fourth] season is no different. There's some storylines that are explosive, and others that are authentically tragic," Scott explained.
Viewers of Blackstone also see aboriginal lives through the eyes of Blackstone band members, in addition to those of police investigators and jail guards as unnamed characters land in the slammer during the upcoming fourth season.
"Just like life, every community faces challenges. And this [aboriginal] community is no different," adds Scott.
Blackstone is produced by Prairie Dog Film + Television, with Scott as executive producer, writer and director, Jesse Szymanski as producer and Damon Vignale as writer-producer.
This is the second of a two-part series: read part one here.