Oasis targets animal lovers with Dog's Best Friend
Building on its success with Hope for Wildlife, the Blue Ant Media channel has added another animal-focused show for spring.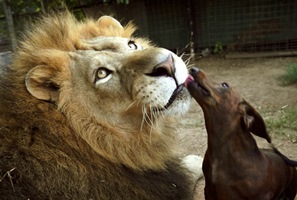 Dog's Best Friend, an original factual series that follows unlikely friendships between animals, has been added to Oasis's summer lineup, targeting animal lovers who already embrace the channel's popular Hope for Wildlife series.
The series from Toronto's Summerhill International tells the stories of unusual relationships between animals, such as a pit bull that befriends a cow. It was reasoned that fans of Hope for Wildlife, which features a wildlife rehab centre on Canada's east coast, would like how Dog's Best Friend focuses on animal bonding, said Marcia Martin, SVP of original content at Blue Ant Media.
"It really came from a sensibility of what the channel is…it complemented everything else that the channel is about," Martin said of Dog's Best Friend.
The first season of Dog's Best Friend features 13 half-hour episodes, shot in locations throughout North America between June and September 2013. The series budget was under $1 million, and it received financing from the Canada Media Fund along with licence fees from Oasis and Canal Vie, and a presale to the Scandinavian broadcaster Viasat.
Dog's Best Friend was created, produced and show run by Laura Lillie. Ron Lillie served as executive producer. Several different directors worked on different episodes of the series, including Lillie, Kim Harris, Anna Ceraldi Zin and Sara Marnio.
Dog's Best Friend will premiere on Oasis on June 8 at 9:30 p.m.