2014 Upfronts: Heading north isn't a 'strain' for FX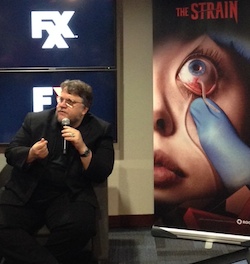 It's not exactly a secret how much Guillermo del Toro likes shooting in Canada.
In fact, he's racked up enough hours here that he's likely well on his way to becoming a resident – a desire he laid out on the table at a Rogers Media event earlier this week promoting the broadcaster's FX Canada channel.
"It's come to the point where I would love to call Canada home," he told the assembled media. "I really think creatively it's the best fit for me."
In the past handful of years alone, del Toro has shot Mama, Pacific Rim, Crimson Peak and, for FX, new sci-fi drama The Strain in the city.
It was to promote The Strain that brought del Toro to the Rogers Centre Tuesday morning and the famed director was positively effusive on his affection for working with Canadian crews.
"We have formed an incredibly symbiotic relationship," he said. "From the point of view of production, craftsmanship and know-how, I can tell you [Canadian crews] are unrivaled. They are right on the top of crews in technical proficiency with the rest of the world."
Del Toro added for each production, he tries to do "more and more and more locally," adding that that there was "no doubt" when pitching The Strain to networks that he and his team wanted to do it in Canada.
What might be slightly less known, however, is how much work FX as a network is doing in Canada. While it has not yet commissioned any original Canadian content, FX original programming president Eric Schrier said the network has spent $100 million in production dollars across Canada, including the recent Strain shoot at Cinespace Film Studios in Toronto and Fargo in Alberta.
The network recently shot a pilot in Toronto as well, a comedy called Man Seeking Woman starring Montrealer Jay Baruchel.
"We haven't picked it up to series yet but if it does it will shoot here in Toronto," Schrier added. "We continue to ramp up the amount of original production we do across the country."
As for a Canadian commission for FX or FX Canada, Schrier said the net is waiting for the right idea.
"We want to figure out how to do that. It's just finding the right project. The truth is, a show like Man Seeking Woman, it has a Canadian star but it doesn't have enough points. Trying to engineer that doesn't work from a creative standpoint, we have to have the creative drive the business model."
FX is aiming to eventually have 20 original series in its roster, Schrier said, across a wider variety of genres than it has become known for. The Strain, he said, is a step in that direction.
"It's the most ambitious show we've ever done at the network," he said. "We've never done a true genre show to this magnitude."