2014 Upfronts: Shaw Media goes for drama
A heavier focus on one-hour dramas, the rebrand of two specialties, a major reality move and Cancon specialty programming highlight Shaw Media's Upfront announcements.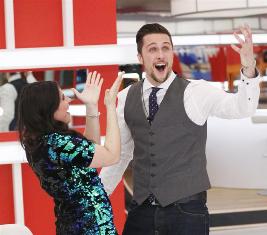 Shaw Media will be launching two new specialty channels in 2014, in addition to moving Big Brother Canada over to Global from the specialty channel Slice and adding a slew of dramas to its conventional channel, the broadcaster announced Wednesday.
Shaw will launch the first of its two new specialty channels, FYI, in the fall of 2014. FYI will focus on lifestyle programming with a focus on younger audiences. Crime + Investigation (CI) will be launched in December 2014 and will feature programming that gives viewers a behind-the-scenes look at crimes and investigations. Both channels are rebrands of existing channels: CI was previously Mystery (technically, an "upbrand" as much of the content will stay the same) and FYI was previously Twist.
On the programming side, Shaw announced it will add eight new dramas to Global's 2014/2015 fall lineup. Stalker, starring Maggie Q and Dylan McDermott, is currently scheduled to air at 10 p.m. on Wednesdays in fall 2014. Madam Secretary, starring  Téa Leoni, will air at 8 p.m. on Sundays, while the series Gracepoint is currently slated for the 9 p.m. Thursday timeslot for fall 2014. The CIA drama State of Affairs, starring Katherine Heigl, will air at 10 p.m. on Mondays, starting in November.
Global also picked up the series Constantine, based on the DC Comics series Hellblazer, which will air at 10 p.m. on Friday starting in October and will take over the timeslot when Border Security finishes its run in October. Global will also air the latest incarnation of the NCIS franchise, NCIS: New Orleans, at 9 p.m. on Tuesdays. Global also added several new comedy series to its lineup, including Partners, the romantic comedy A to Z, Bad Judge, and Mulaney.
Canadian shows slated to return to Global include the second season of Remedy and the sixth season of Rookie Blue.
Working the Engels, from Halfire Entertainment in partnership with Shaw Media and NBC, is currently on the bubble, with a next-season return still undecided, Williams said.
Shaw Media will also be moving Big Brother Canada over from Slice to Global, following a successful finale on the specialty. Other new shows to join the Global lineup in mid-season include a 13-episode "event" series Heroes Reborn, a standalone offshoot of Heroes, and The Dovekeepers, a four-hour miniseries from Mark Burnett.
The overall programming strategy for Global for the upcoming season was built on several clearly identified priorities, said Barb Williams, SVP of content at Shaw Media. The broadcaster wanted to make sure Global could work towards owning the 10 p.m. timeslot, build up its Thursday lineup and stagger out the premieres of new shows. The number of dramas Global picked up for the upcoming season also spoke to the current strength of the genre, Williams said.
"This is sometimes what get refers to as the gold age of drama. Drama is just better than it's ever been before," Williams said.
Shaw Media also picked up a slew of new series across its specialty channels. History will premiere the Canadian doc-series Dino Hunt from Cream Productions in 2015, as well as The Hunt, Down East, Dickering, Pawnography and Biker Battleground Phoenix. History will also air the newest seasons of Yukon Gold and Vikings. As well, March to the Pole from Shaw and Muse Entertainment, will debut in November.
On HGTV Canada, a new series from Toronto's Si Entertainment and distributed by D360, Reno Rookies, will premiere this fall. On Food Network Canada, new series include Carnival Eats from Alibi Entertainment of Toronto and Food Truck Face Off from Toronto's Peace Point Entertainment. As previously announced, Chopped Canada will return for the winter 2015 season as well.
On Showcase,  Outlander and Dominion join the fall lineup and Ladies of London and Handsome Devils are added to Slice.
Pictured:  Big Brother Canada season 2 winner Jon Pardy