Brian Mulroney next chairman of Quebecor (report)
Media reports peg the former PM as the media company's next chairman following Pierre Karl Peladeau's exit into politics.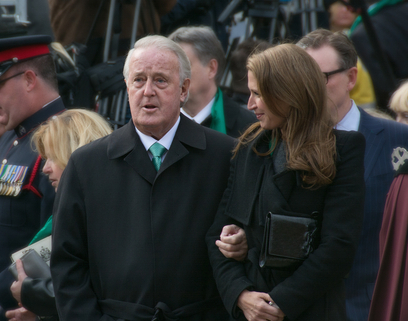 Brian Mulroney's ascendancy at Quebecor Inc., the Quebec media giant, looks set to continue as the former Canadian prime minister becomes company chairman.
The Globe and Mail newspaper on Thursday reported that Quebecor in a corporate filing said Mulroney's promotion would be confirmed at a shareholders meeting on June 19.
The move will follow Quebecor controlling shareholder Pierre Karl Peladeau stepping down as president and CEO of the media giant and Quebecor Media Inc. to assume political office in Quebec as part of the Parti Quebecois.
Peladeau said his stake in Quebecor and Quebecor Media will be held in a blind trust, but debate still surrounds his apparent influence on the provincial cable and wireless phone giant.
Mulroney is currently vice chairman of Quebecor.
Photo: Toronto, Canada-April 16, 2014: Brian Mulroney, former Prime Minister of Canada at the State Funeral for Jim Flaherty, former Minister of Finance of Canada, held at St. James Cathedral in Toronto / Shutterstock