Dan Goldberg on why Meatballs still sticks
The famed comedy producer looks back at the sweet, saucy comedy ahead of its 35th anniversary and reunion event in Toronto this June.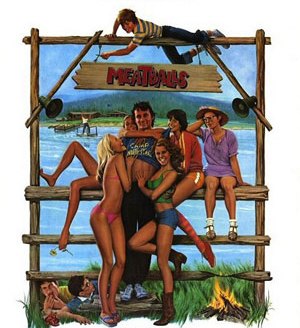 There's something about '80s comedy that continues to resonate, especially with those who were young adults or teens during the era. Clever yet sweet. Silly without being ridiculous. Great soundtracks.
In Canada, that era kicked off with 1979′s summer camp comedy Meatballs, helmed by a Canadian comedy dream team that included director Ivan Reitman, writer/producer Dan Goldberg, writer Len Blum and nascent (not Canadian) star Bill Murray.
Now celebrating its 35th birthday, the film is being recognized with a reunion event June 4 at the TIFF Bell Lightbox in support of charity Action Against Hunger. Ahead of the event, Playback spoke with Goldberg – whose post-Meatballs resume grew to include modern comedy hits like The Hangover trilogy and Old School – about what the film means to him 35 years later.
What does it mean to you to revisit this film now?
It was my first big hit, and I wrote it and produced it with good friends. It means a lot nostalgically because it harkens back to life at camp, but also for me personally, it was a hit, and it really ignited my filmmaking career, let me go on to more things and gave me some credibility in Hollywood. And Ivan Reitman is [still] one of my best friends, Lenny Blum is still one of my best friends. There are parts of the movie that when I see a clip of it, I get teary-eyed. When we made it, we all lived together up near Haliburton, we all lived in this community and played volleyball and swam and that stuff. And the movie: it's just a heartwarming movie. It still affects me in that way.
Comedies were different back then, sweeter: I think that's often missing now
I think people misinterpret comedies as having to be harsh in order to be funny. Comedies are all about the characters, and you have to relate to the characters and you have to relate to the humanity, or the comedy doesn't work. If you look at the best comedies, you care about the people, you care about their struggle, you care about what they have to do and therefore it frees you up to laugh. Meatballs was really the first movie that Bill Murray ever did and it's so great to see him so young and to see the seminal workings of that ironic, heartwarming ironic sense of humour he has.
Its legacy seems to be as something of a career launcher: you, Ivan, Bill…
Sure, success always helps everybody. And it's the decision of the people that get success how they deal with it. It certainly helped Bill. I think that was just after his first year on Saturday Night Live, he was well known to those in the comedy field, and [he did] National Lampoon, etc, but this showed he was able to carry a movie.
What surprises you about how it's remembered?
It makes me happy that people still remember it and when they say 'oh you wrote Meatballs?' it still means something to them because they watched it when they were a kid. Does it surprise me? No, it doesn't surprise me that people still [remember it] – it would make me sad if it didn't.
What was the magic element that made this film work?
It didn't hurt that it was the first movie that brought Bill Murray to the eyes of the American/Canadian public, so that's a huge thing, but I think what really really worked was Bill's relationship with the kid. I think all the scatterbrained and goofy hijinks that occurred in the movie wouldn't be anything without having that central core that make you care about it.
The Meatballs 25th reunion and Action Against Hunger fundraiser will be held at the TIFF Bell Lightbox and will feature a screening of the film and panel discussion including Goldberg, producer Don Carmody (production executive on Meatballs) and actors Harvey Atkin, Kristine DeBell, Chris Makepeace, and Robert Wertheimer.