Bell Media renews Motive for third season
The broadcaster is sticking with the police procedural after it has averaged 1.3 million viewers during its second cycle, which has a finale on May 29.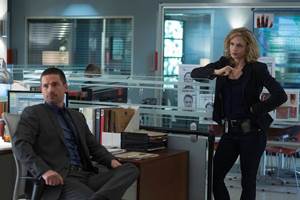 Canada's CTV is renewing the scripted police drama Motive for a third season.
The procedural from Foundations Features and Lark Productions got the greenlight ahead of the second season finale on May 29.
Motive, which was also picked up by ABC, will return to production this fall in Vancouver.
The second season of the Lauren Holly and Kristin Lehman-starrer has averaged 1.3 million viewers for CTV, and grew its audience in the key 18-49 and 24-54 demos during the current run, Bell Media reported Wednesday.
Motive is executive produced by Daniel Cerone, Louise Clark and Rob Merilees, Erin Haskett, Rob LaBelle, Lindsay Macadam and Dennis Heaton.
The series was developed by James Thorpe and Cerone and is distributed internationally by NBC Universal International.