CTV: MasterChef Canada top-rated Canadian show of 2013-14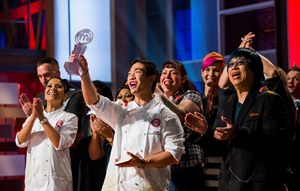 CTV on Thursday reported the inaugural season of  the MasterChef Canada reality series is the top-rated Canadian series this broadcast season.
The culinary competition series, an adaptation of the global MasterChef franchise, averaged 1.8 million viewers during its rookie season.
The finale on April 28 drew 2.2 million total viewers.
CTV has ordered a second season of MasterChef Canada with judges Claudio Aprile, Michael Bonacini and Alvin Leung. The series is produced by Proper Television.
The American version of MasterChef will return to CTV from May 26.