Big Brother Canada finale draws 1.1 million on Slice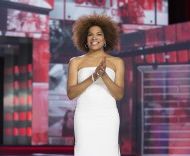 Big Brother Canada posted big numbers for Thursday night's second season finale broadcast on Slice. Over 1.1 million viewers (V2+) tuned in to watch the reality series' final episode of the season at some point during the broadcast, according to BBM Canada data cited in a release from Slice parent company Shaw Media. Average viewership numbers for the finale were not disclosed.
Over its 10-week run the series and its affiliated Big Brother After Dark and Big Brother Side Show series reached a total of 6.4 million unique viewers.
The broadcast audience almost doubled compared to last year's season one finale which drew 657,000 (V2+) viewers to Slice.
The series also generated 46 million page views on BigBrotherCanada.ca, according to Adobe Omniture stats cited by Shaw Media.
Over 1.65 million unique visitors collectively streamed 46.5 million minutes of live feed on the site, while interactive elements sponsored by The Brick and Twistos generated 1.4 million fan votes combined.
- From Media in Canada