How IdeaBOOST hothouses internet hardware plays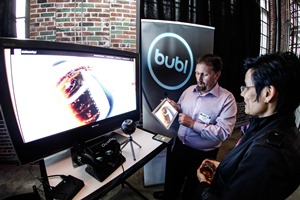 IdeaBOOST got its start backing digital upstarts with content apps and plays.
But the Canadian Film Centre's business accelerator is now backing smart hardware and gadget start-ups – companies conceiving, prototyping and producing physical products for a fast-changing digital landscape.
"IdeaBOOST is finding its wings and expanding the companies we back to include hardware," Ana Serrano, chief digital officer at the Canadian incubator, told Playback Daily.
As the Canadian Film Centre on Thursday night held a graduation for its third cohort of new start-ups, there were the usual content plays including Weirdwood Manor, an interactive iPad-based storytelling experience.
But hardware start-ups now backed by IdeaBOOST include Bublcam, an 360-degree camera from Bubl Technology.
After Facebook said it was buying the maker of the Oculus Rift headset for $2 billion, Serrano foresees a retail market for a spherical camera that allows your computer, tablet and mobile phone  to look up, down and in every direction for total immersion.
"From the point of view of a filmmaker, you're turning the user into into a specific point of view," Seranno insisted, citing a genre horror movie where an actor may wear a Bublcam mounted on a helmet to offer a 360 degree view of the action.
Also graduating is Mediazoic's Radio Mogul hardware to create branded radio stations.
Greg Nisbit, Mediazoic founder and CEO, was on hand at the Steam Whistle Brewery to unveil branded radio stations for the burrito restaurant chain Quesada.
Nisbit explained the Radio Mogul hardware provides an internet music-based radio solution with custom content for a brick-and-mortar environment.
"We do all the music in the restaurants, we do digital radio players on the website," he added of the one-stop service that includes music licensing and curation.
Elsewhere, veteran radio broadcaster Alan Cross, a veteran of the Corus and Astral Media radio groups, has embraced Radio Mogul to become a commercial micro-broadcaster by presenting his top 11 music tracks every week.
Nesbit insisted his involvement with IdeaBOOST gives his Radio Mogul product a better chance to penetrate a commercial market of music lovers.
"The [IdeaBOOST] network is phenomenal. It's like adding 10 or 15 very smart people to your team," he said.
"They're working for you to get your business to the next level," Nesbit added.
For IdeaBOOST's Seranno, Radio Mogul and the rest of the third cohort from her business accelerator are ready to make a lasting impression on the world market with their content and hardware plays.
"It's about taking a high potential company and turning it into a sustainable company with global impact," she said.