Serpent's Lullaby booked into Cannes' Short Film Corner
Patricia Chica's 12-minute film will receive increased exposure to possible buyers in the Court Metrage program.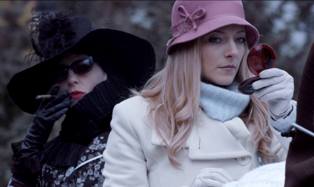 Aside from the star-driven theatrical features, the Cannes film festival has a myriad of platforms to get short films noticed and screened on the Croisette, in and out of competition.
That includes Telefilm Canada's Not Short on Talent showcase of Canadian short films at the Cannes market.
Another avenue has seen Patricia Chica's 12 minute short Serpent's Lullaby make it into the Coup de Coeur sidebar at Cannes, and to be registered in the Court Metrage, or Short Film Corner.
The selection allows the short film's producers, Byron A. Martin Productions and Badazz Films of Montreal, access to the main festival hall and market in Cannes for increased visibility and networking.
Serpent's Lullaby was filmed in Montreal, with post production in Toronto at Redlab Digital.
The visual effects were completed at Switch VFX.
Byrone A. Martin executive produced the project.