Industry attends Liberal fundraiser at William F. White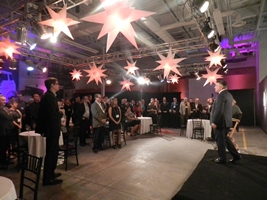 As Ontario starts a snap provincial election, the Canadian production sector got a look Monday night at how the minority Liberal government might support their sector after the upcoming vote.
Ontario finance minister Charles Sousa and culture minister Michael Chan attended a fund-raiser at William F. White International in Toronto, where they glad-handed with a host of industry leaders.
"You guys are giving Hollywood and New York a good run for their money," Sousa said ahead of the June 12 election triggered by a loss of support for the Liberal's minority government.
"I would really like to thank Paul," Chan said during his speech, as he gave a nod to Paul Bronfman, Comweb/Whites chairman and CEO, and the host for the evening.
"He is a giant champion for this sector," the culture minister added.
Among those attending were representatives of Deluxe Entertainment Service Group and Clairmont Camera Canada.