Raven Banner takes int'l rights to WolfCop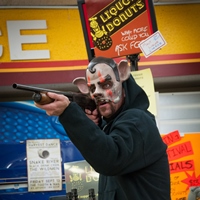 WolfCop is heading to the Cannes international market after Toronto-based Raven Banner secured the international sales rights to the inaugural feature from the CineCoup film accelerator.
"For us, picking up WolfCop was a no-brainer. It has all the qualities we look for in a genre film: horror, action and creature feature," Raven Banner managing partner Michael Paszt told Playback Daily.
The film will have two screenings at the Cannes film market, with CineCoup's president of sales and distribution Brad Pelman set to work directly with Raven Banner at the market.
After the screenings, Paszt said him and his Raven Banner colleagues plan to follow up with meetings with companies in key territories, such as the U.K., U.S., Japan, Germany and France.
WolfCop was written and directed by Lowell Dean, and produced by Bernie Hernando and Hugh Patterson. The feature is executive produced by Bill Marks, J. Joly, Brian Wideen, Sean Buckley and Pelman.