Package Deal adds Jason Priestley, Amanda Tapping as guest stars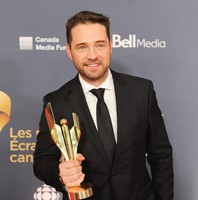 Thunderbird Films has added Jason Priestley and Amanda Tapping as guest stars of its Package Deal comedy for City.
The series, now shooting its second season in Vancouver in front of a live audience, will see Priestley join the cast as a slick, name-dropping TV weatherman, and the hero to Ryan, played by Jay Malone.
And Sanctuary's Tapping will play Danny's (Randal Edwards) boss, Jillian Sharpe, on the multi-camera comedy.
Besides the returning cast of Edwards, Malone, Harland Williams and Julia Voth for Package Deal, the sitcom has had a host of earlier guest stars, including Pamela Anderson and Eugene Levy.
Package Deal, created by Andrew Orenstein, centers around three overly close brothers and the woman who comes between them.