GroupM's Peter Tortorici on big ideas and Canadian content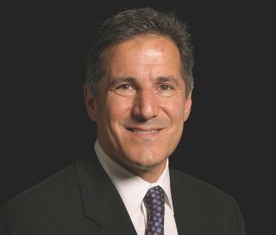 He's been CEO of Telemundo, president of CBS Entertainment and worked with famed prodco Carsey-Werner (The Cosby Show; 3rd Rock from the Sun) at the height of heady '90s network TV.
So how did Peter Tortorici, who today leads one of the biggest media-agency entertainment divisions in the world, come to be such a big fan of Canadian TV?
Partly in the same way so many other Americans did in the '90s: Due South.
Tortorici worked with the pioneering Canada- U.S. copro, which ran from 1994-1999, during his tenure at CBS Entertainment and got a taste for the success the cross-border coproduction model can achieve.
"That was a show that was a really successful show for CBS, it was a successful show in Canada as well and it had great auspices: Paul Haggis and Paul Gross," he says. "I still think there are big opportunities like that and I hope we can be part of it."
As CEO of GroupM Entertainment, which finances, distributes and creates original programming, Tortorici and his team have taken several cracks at it already. The company, which launched with Tortorici as CEO in 2007, made an early play in Canada with CBC on Battle of the Blades for the first two seasons, invested in CBC's 2010 TV series with Debbie Travis' All for One and more recently coproduced and co-financed White Pine Pictures' Cracked and the Rogers Media reality series The Project with Toronto's Buck Productions.
In 2013, the company built on its relationship with former CBC exec Julie Bristow by partnering on her new shingle, Bristow Global Media, which this winter debuted the behind-the-scenes hockey series NHL Revealed: A Season Like No Other, produced in association with the NHL.
What connects these disparate entities? Nothing except the right idea in the right hands, says Tortorici.
"We're genre-agnostic," he explains. "There's no secret to it – you're looking for big ideas that come from people who are capable of delivering them. Big ideas in the wrong hands generally end in tears and bad ideas don't necessarily go the distance in the most capable of hands."
Those ideas are getting even more attention from GroupM these days with the company's 2013 signing of Adam Pincus to the role of EVP of programming and production for the North American market.
The goal is simple: to find good ideas, and bring them to life.
"If we can help finance something that [a network] really loves and needs financial support for, we're happy to do that and if we can bring them something that they might not have seen that we might have found ahead of the curve then we're happy to do that as well," he says of GroupM's strategy. "But it's not just drama, it's not just unscripted, it's not just anything. We're just looking for what we think can be big ideas."
Peter Tortorici will open the 2014 Playback Summit in a keynote conversation with Twitter Canada's Kirstine Stewart. Playback Summit takes place April 30 at the Bram and Bluma Salon in the Toronto Reference Library.