Orphan Black second season bows well on BBC America
The U.S. channel saw a 97% rise in the 18-49 demo from the Saturday night premiere of the Canadian clone drama.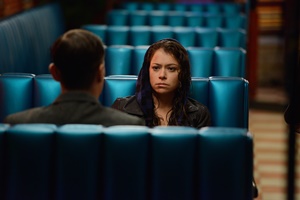 Orphan Black's second season has debuted strong on BBC America.
The Saturday night premiere delivered 620,000 viewers in the 2+ category, according to Nielsen Media Research, BBC America reported Monday.
But that debut was still around 50,000 viewers short from the Orphan Black debut on BBC America on March 30, 2013, when the Canadian clone drama got a big lead-in from the season premiere of the Dr. Who drama.
Last Saturday night's second season debut did bring Orphan Black a record 785,000 P2+ viewers, when you add in encore broadcasts at midnight and 3 a.m. Sunday morning.
BBC America also pointed to a 97% increase in the A18-49 demo to 391,000 viewers for the second season debut.
Orphan Black, created by Graeme Manson and John Fawcett, is produced by Temple Street Productions and airs in Canada on Space.