How Quebec's V network woos English TV viewers
Sugar Sammy's Ces gars-la has managed what only the Montreal Canadiens could do on Radio-Canada: bridge the province's longstanding language divide. (Sugar Sammy pictured)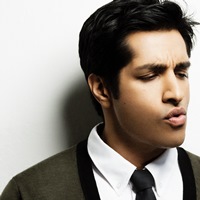 Stand-up Samir Khullar has managed to bridge Quebec's language divide by bringing English viewers to his French-language TV show Ces gars-là on the V television network.
The Quebec comic, who goes by the stage name Sugar Sammy, built a following in Montreal with bilingual comedy shows like You're Gonna Rire where he routinely switched between the English and French languages while telling jokes.
Using two languages to get to the punch-line is at times like tightrope-walking.
But equally delicate is reaching across Quebec's linguistic divide and getting TV viewers to chuckle after Ces gars-là debuted on Feb. 24, just as top politicians fought a largely negative provincial election campaign.
But Sugar Sammy, a master of Franglais, managed that success on the V network with a scripted comedy that has averaged between 675,00 and 760,00 viewers for each episode.
In effect, Ces gars-là has brought English viewers to a French network with a French-language show that features English chatter.
Only the Montreal Canadiens on RDS have managed to do that, and only because the CBC mostly features the arch-rival Toronto Maple Leafs.
Also novel is how English- and French-language fans of Ces gars-là have exchanged views in social media.
That's significant because the V network can't measure who among its audience is Anglophone or Francophone.
But, according to the series' producer, 15% of the tweets generated during the last episode of Ces gars-là were in English, or Franglais.
Also giving the series a bump was Quebec's English-language print and TV media jumping on board to cover the launch of Ces gars-là, interviewing the co-stars and publicizing the show.
The single camera comedy stars Sugar Sammy and fellow comic and series writer Simon Olivier Fecteau as two buddies with diametrically opposed backgrounds that colours their friendship.
Correction: An earlier version of this story incorrectly stated that the French language Montreal Canadiens games broadcast on Radio-Canada. The French language broadcasts of Montreal Canadiens games broadcast on RDS. Playback regrets the error.