Leah Fay Goldstein top-lines Diamond Tongues
The July Talk singer (pictured) stars alongside Adam Gurfinkel and Nick Flanagan in the film, which is directed by Everyday is Like Sunday's Pavan Moondi.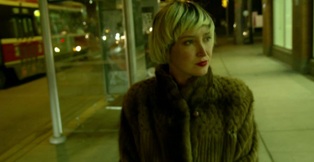 Everyday is Like Sunday director Pavan Moondi has reteamed with that film's co-leads Adam Gurfinkel and Nick Flanagan for Moondi's second feature, Diamond Tongues, which has just wrapped production.
Top-lining the film is Leah Fay Goldstein of Toronto indie band July Talk, who stars alongside Gurfinkel, Flanagan and Leah Wildman.
Diamond Tongues is co-directed by Moondi and Brian Robertson; Peter Dreimanis, Goldstein's co-lead singer in July Talk, served as the film's cinematographer.
Diamond Tongues, written by Moondi, follows the ups and downs of an aspiring actress (Goldstein) struggling with professional and personal crisis.
The film is executive produced by Brendan Canning, Sarah Haywood, Ari Lantos, Dan Bekerman, Jason Charters and Liam Romalis.