Realscreen Awards 2014 shortlist unveiled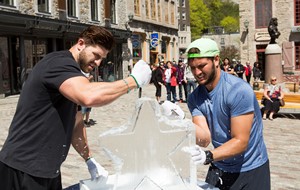 Several Canadian productions are among the shortlisted programs that will advance to the second, final round of judging for the upcoming 2014 Realscreen Awards, including The Amazing Race Canada and Battle of the Blades.
The Amazing Race Canada is shortlisted in the Competition – Game Category, while Battle of the Blades is up for an award in the Competition – Talent/Studio Based category. Both shows are produced by Insight Productions.
Buying and Selling with the Property Brothers, from Cineflix (Buying & Selling with PB 2) Inc., is shortlisted in the Lifestyle – Home category. Finally, Toronto-based Associated Producer's Tales From the Organ Trade is shortlisted in the Non-Fiction – Social Issues/Current Affairs category.
The awards, which recognize the best in reality, documentary and factual entertainment programming from around the world, will be presented during a ceremony held at the Loews Santa Monica Beach Hotel in California on June 4, in conjunction with the forthcoming Realscreen West conference, which takes place June 4 and 5. For more information, visit awards.realscreen.com.
The full list of the shortlisted programs are below:
Competition – Game
Face Off
Broadcaster: Syfy (U.S.)
Production company: Mission Control Media
Executive Producer (for the production company): Dwight D. Smith, Michael Agbabian, Derek Atherton
Executive Producer (for the broadcaster): Robyn Lattaker-Johnson
Impractical Jokers
Broadcaster: TruTV (U.S.)
Production company: NorthSouth Productions
Executive Producer (production company): Joe Gatto, James Murray, Brian Quinn, Sal Vulcano, Charlie DeBevoise, Mark Hickman, Tommy Cody, Eric Leiderman, Pete McPartland Jr.
Executive Producer (broadcaster): Simmy Kustanowitz
The Amazing Race
Broadcaster: CBS (U.S.)
Production company: World Race Productions
Executive Producer (production company): Bertram van Munster, Elise Doganieri, Mark Vertullo, Jerry Bruckheimer, Jonathan Littman
The Amazing Race Canada
Broadcaster: Bell Media – CTV (Canada)
Production company: Insight Productions
Executive Producer (production company): John Brunton, Barbara Bowlby
Executive Producer (broadcaster): Robin Johnston
Competition – Lifestyle
Chopped
Broadcaster: Food Network (U.S.)
Production company: Notional
Executive Producer (production company): Linda Lea, David Noll
Cutthroat Kitchen
Broadcaster: Food Network (U.S.)
Production company: Embassy Row
Executive Producer (production company): Michael Davies, Shauna Minoprio, Matt Berkowitz
Iron Chef America
Broadcaster: Food Network (U.S.)
Production company: Triage Entertainment
Executive Producer (production company): Eytan Keller, Stephen Kroopnick, Stu Schreiberg
Competition – Shiny Floor Game Show
5 Minutes To A Fortune
Broadcaster: Channel 4 (UK)
Production company: Victory Television
Executive Producer (production company): Victoria Ashbourne, Stuart Shawcross
Executive Producer (broadcaster): Tom Beck and Justin Gorman
Big Star's Little Star
Broadcaster: ITV (UK)
Production company: 12 Yard Productions
Executive Producer (production company): Andy Culpin
Million Second Quiz
Broadcaster: NBC (U.S.)
Production company: Studio Lambert, all3media america, Universal Television
Executive Producer (production company): Stephen Lambert, Eli Holzman, David A Hurwitz, Ryan Seacrest
Competition – Talent/Studio-Based
Battle of the Blades
Broadcaster: CBC (Canada)
Production company: Insight Productions
Executive Producer (production company): John Brunton, Barbara Bowlby
Executive Producer (broadcaster): Grazyna Krupa
Dancing with the Stars
Broadcaster: ABC (U.S.)
Production company: BBC Worldwide Productions
Executive Producer (production company): Conrad Green, Joe Sungkur, Ashley Edens Shaffer
RuPaul's Drag Race
Broadcaster: Logo (U.S.)
Production company: World of Wonder Productions
Executive Producer (production company): Fenton Bailey, Randy Barbato, Tom Campbell, RuPaul Charles, Mandy Salangsang, Steven Corfe
Executive Producer (broadcaster): Brent Zacky, Pamela Post
Digital & Branded Content – Brand-Funded Program
On Pace with Pastrana
Production company: Red Bull Media House
Executive Producer: Charlie Rosene, Scott Bradfield
Raising the Bar
Production company: Original Productions
Executive Producer (production company): Thom Beers, Philip Segal, Jeff Conroy
Verses and Flow
Production company: McMann, Tate & Stephens
Executive Producer (production company): Aaron Walton, Cory Isaacson
World's Best Bartender
Production company: Shine Media, Precious Media, Diageo
Executive Producer (production company): Fi Cotter Craig (Shine); Dominic Redfeam, Dave McNulty (Diageo); Peter Christiansen (Precious)
Executive Producer (broadcaster): Bill Howard (Travel Channel)
Digital & Branded Content – Multi-Platform Project
Red Bull Signature Series
Broadcaster: NBC (U.S.)
Production company: Red Bull Media House
Executive Producer: Charlie Rosene, Scott Bradfield
Skywire Live with Nik Wallenda
Broadcaster: Discovery Channel (U.S.)
Production company: Discovery Channel, Discovery Digital Media and the Discovery Agency
Executive Producer (production company): Guhan Selvaretnam, David Ly, David Tra, Pamela Russo, Jessica Wolfley, Cory Key, Paul Smith, Greg Johnson
Executive Producer (broadcaster): Scott Lewers, Eileen O'Neill, Josh Arensberg, Matt Brown, Brian Dean, Molly Hagen, Megan Davis, Keith Koslov
Surviving Evil
Broadcaster: Investigation Discovery (U.S.)
Production company: Cineflix, Inc.
Executive Producer (production company): Nick Godwin and Simon Lloyd
Executive Producer (broadcaster): Pamela Deutsch
Digital & Branded Content – Web Series/Programs
#CandidlyNicole
Broadcaster: AOL On
Production company: Produced by Telepictures Productions and World of Wonder
Executive Producer (production company): Nicole Richie and Michael Baum
Who Knew?
Broadcaster: Yahoo! News (U.S.)
Production company: Shine America
Executive Producer (production company): Vivi Zigler, Derik Parrent, Woody Thompson 
Casualties of the Gridiron
Broadcaster: GQ Channel
Production company: Conde Nast Entertainment/Football Film
Executive Producer (production company): Isaac Solotaroff
Executive Producer (broadcaster): Dawn Ostroff, Michael Klein
Lifestyle – Design
A Bryk at a Time
Broadcaster: DIY Network (U.S.)
Production company: Tricon Films & Television
Executive Producer (production company): Andrea Gorfolova
Executive Producer (broadcaster): Shawn Visco
Écho-Logis (Greenest Stories)
Broadcaster: France 5 (France)
Production company: TV Only
Executive Producer (production company):  Séverin Delpon, Jean Moncaut
How I Rock It
Broadcaster: Esquire Network (U.S.)
Production company: Ryan Seacrest Productions and Citizen Jones
Executive Producer (production company): Ryan Seacrest, Adam Sher (Ryan Seacrest Productions); Jonas Bell Pasht, Jonah Bekho (Citizen Jones); Baron Davis, Kate Gordon
Executive Producer (broadcaster): Jennifer Nelson, Laura Civiello
Lifestyle – Food
Bizarre Foods America
Broadcaster: Travel Channel (U.S.)
Production company: Tremendous! Entertainment
Executive Producer (production company): Colleen Needles Steward, Shannon Keenan Demers, Andrew Zimmern
Executive Producer (broadcaster): David E. Gerber
Choccywoccydoodah: Starstruck
Broadcaster: Good Food / UKTV (UK)
Production company: TwoFour
Executive Producer (production company): Juliet Rice
Executive Producer (broadcaster): Catherine Catton
My Grandmother's Ravioli
Broadcaster: Cooking Channel (U.S.)
Production company: CBS Eye Too Productions
Executive Producer (production company): Gideon Evans, Hal Gessner
Lifestyle – Health & Well Being
Last Chance Salon
Broadcaster: TLC (Ukraine)
Production company: Maverick Television
Executive Producer (production company): Sarah Eglin (Maverick Television)
Executive Producer (broadcaster): Sarah Thornton and Mark Proctor (DNI)
Oprah's Lifeclass
Broadcaster: OWN (U.S.)
Production company: Harpo Studios
Executive Producer: Jon Sinclair, Jill Van Lokeren, Dana Brooks Reinglass, Terry Goulder
Super Soul Sunday
Broadcaster: OWN (U.S.)
Production company: Harpo Studios
Executive Producer: Jill Barancik
Lifestyle – Home
Buying and Selling with the Property Brothers
Broadcaster: W Network (Canada)
Production company: Cineflix (Buying & Selling with PB 2) Inc.
Executive Producer (production company): Simon Lloyd, Gerard Barry
Executive Producer (broadcaster): Brad Clarke, Kelly Shouldice, Vibika Bianchi
Interior Therapy
Broadcaster: Bravo (U.S.)
Production company: Authentic Entertainment
Executive Producer (production company): Lauren Lexton, Tom Rogan, Andrew Hoegl
Executive Producer (broadcaster): Christian Barcellos
Vanilla Ice Goes Amish
Broadcaster: DIY Network (U.S.)
Production company: Juma Entertainment
Executive Producer (production company): Robert C. Horowitz, Louis Fenton, Len Webber
Executive Producer (broadcaster): Steven Lerner
Non-Fiction – Archive-Based Programming
All the President's Men Revisited
Broadcaster: Discovery Channel (U.S.)
Production company: Partisan Pictures in association with Sundance Productions
Executive Producer (production company): Robert Redford, Andrew Lack, Laura Michalchyshyn
Executive Producer (broadcaster): Nancy Daniels, Denise Contis
JFK: The Final Hours
Broadcaster: National Geographic Channel (U.S.)
Production company: Creative Differences Productions
Executive Producer (production company): Erik Nelson
Executive Producer (broadcaster): Kathleen Cromley
The Assassination of President Kennedy
Broadcaster: CNN (U.S.)
Production company: Playtone Productions in association with Herzog & Company
Executive Producer: Tom Hanks, Gary Goetzman, Chris Cowan, Mark Herzog
Non-Fiction – Arts & Culture
Anthony Bourdain: Parts Unknown
Broadcaster: CNN (U.S.)
Production company: Zero Point Zero Productions
Executive Producer: Anthony Bourdain, Christopher Collins, Lydia Tenaglia, Sandra Zweig
Esquire's 80th
Broadcaster: Esquire Network (U.S.)
Production company: World of Wonder Productions
Executive Producer (production company): Fenton Bailey, Randy Barbato, Tom Campbell, Samuel J. Paul
Executive Producer (broadcaster): Matt Hanna, Laura Civiello
Mystical Journey: Kumbh Mela
Broadcaster: Smithsonian Channel (U.S.)
Production company: Mountains Green and Lion Television
Executive Producer (production company): Rupert Smith-Bingham, Cambridge Jones (Mountains Green);  Nick Catliff, Bill Locke (Lion Television)
Executive Producer (broadcaster): David Royle, Linda Goldman
Non-Fiction – Environmental/Natural History
How To Build A Planet
Broadcaster: Science Channel (U.S.)
Production company: BBC
Executive Producer (production company): Will Aslett, Mark Hedgecoe
Executive Producer (broadcaster): Neil Laird
Monster Squid: the Giant is Real
Broadcaster: Discovery Channel (U.S.)
Production company: Discovery Studios in association with Creative Differences
Executive Producer (production company): Mike Masland , Erik Nelson
Executive Producer (broadcaster): Chris Weber
River Monsters
Broadcaster: Animal Planet (U.S.)
Production company: Icon Films and Animal Planet
Executive Producer (production company): Harry and Laura Marshall
Executive Producer (broadcaster): Lisa Lucas
Non-Fiction – History/Biographical
9/11: The Heartland Tapes
Broadcaster: Smithsonian Channel (U.S.)
Production company: 1895 Films
Executive Producer (production company): Tom Jennings
Executive Producer (broadcaster): David Royle, Charles Poe
All the President's Men Revisited
Broadcaster: Discovery Channel (U.S.)
Production company: Partisan Pictures in association with Sundance Productions
Executive Producer (production company): Robert Redford, Andrew Lack, Laura Michalchyshyn
Executive Producer (broadcaster): Nancy Daniels, Denise Contis
The Making of Mandela
Broadcaster: Discovery Channel (UK)
Production company: Darlow Smithson Productions
Executive Producer (production company): Iain Riddick, (Darlow Smithson Productions)
Executive Producer (broadcaster): Sarah T. Davies (DNI)
Non-Fiction – Science & Technology
Bigfoot: The New Evidence
Broadcaster: National Geographic Channel (U.S.)
Production company: Icon Films
Executive Producer (production company): Laura Marshall, Harry Marshall
Executive Producer (broadcaster): Madeleine Carter
Brain Games
Broadcaster: National Geographic Channel (U.S.)
Production company: National Geographic Television  in association with Atomic Entertainment
Executive Producer (production company): Jerry Kolber
Executive Producer (broadcaster): Allan Butler
The Incredible Bionic Man
Broadcaster: Smithsonian Channel (U.S.)
Production company: Darlow Smithson
Executive Producer (production company): Julian Ware
Executive Producer (broadcaster): David Royle, Charles Poe
Non-Fiction – Social Issues/Current Affairs
Our America with Lisa Ling
Broadcaster: OWN (U.S.)
Production company: Part2 Pictures
Executive Producer: Lisa Ling, David Shadrack Smith, Gregory Henry, Amy Bucher
Rebuilding the World Trade Center
Broadcaster: Channel 4 (UK)
Production company: Lion Television
Executive Producer (production company): Nick Catliff
Tales From The Organ Trade
Broadcaster: HBO (U.S.); Shaw Media, Canal D (Canada)
Production company: Associated Producers
Executive Producer (production company): Ric Esther Bienstock, Simcha Jacobovici, Felix Golubev
Executive Producer (broadcaster): Sheila Nevins (HBO), Nancy Abraham (HBO), Sarah Jane Flynn (Shaw Media), Lynne Carter (Shaw Media), Sylvie de Bellefeuille (Canal D)
Reality – Docuformat
Betty White's Off Their Rockers
Broadcaster: NBC (U.S.)
Production company: Kinetic Content
Executive Producer (production company): Chris Coelen, Tim van Aelst, Emma Conway, Matilda Zoltowski
Farmen (The Farm)
Broadcaster: TV2 (Norway)
Production company: Strix Televisjon
Executive Producer (production company): Arild Brubak
Executive Producer (broadcaster): Fredrik Sandal
The Millionaire Matchmaker
Broadcaster: Bravo (U.S.)
Production company: Intuitive Entertainment
Executive Producer (production company): Mechelle Collins, Kevin Dill
Executive Producer (broadcaster): Shari Levine, Toni Subklewe
Reality – Docureality
Catfish: The TV Show
Broadcaster: MTV (U.S.)
Production company: Relativity Television, Catfish Picture Company
Executive Producer (production company): Tom Forman, David Metzler, Brad Bishop, Julie Link Steffens (Relativity Television), Andrew Jarecki, Marc Smerling, Ariel Schulman, Henry Joost, Nev Schulman (Catfish Picture Company)
Executive Producer (broadcaster): Marshall Eisen, Nomi Ernst Leidner, Dave Sirulnick
Deadliest Catch
Broadcaster: Discovery Channel (U.S.)
Production company: Original Productions
Executive Producer (production company): Thom Beers, Jeff Conroy
Executive Producer (broadcaster): David Pritikin
Duck Dynasty
Broadcaster: A&E (U.S.)
Production company: Gurney Productions
Executive Producer (production company): Deirdre Gurney, Scott Gurney, Willie Robertson, Mike Odair
Executive Producer (broadcaster): Elaine Frontain Bryant, David McKillop, Lily Neumeyer
Inside Combat Rescue
Broadcaster: National Geographic Channel (U.S.)
Production company: National Geographic Television
Executive Producer (production company): Jared McGilliard, Jerry Decker, Ted Duvall
Executive Producer (broadcaster): Richard J. Wells
Storage Wars
Broadcaster: A&E (U.S.)
Production company: Original Productions
Executive Producer (production company): Thom Beers, Philip David Segal, Jeff Conroy
Executive Producer (broadcaster): David McKillop, Elaine Frontain Bryant, Fred Grinstein
The Getaway
Broadcaster: Esquire Network (U.S.)
Production company: Zero Point Zero Production
Executive Producer (production company): Anthony Bourdain, Lydia Tenaglia, Chris Collins, Alexandra Lowry and Craig Shepherd
Executive Producer (broadcaster): Jennifer Nelson, Laura Civiello
Reality – Docusoap
Connected
Broadcaster: Hot (Israel)
Production company: Koda Communications
Executive Producer (production company): Ram Landes
Executive Producer (broadcaster): Ofir Rabinovich
Here Comes Honey Boo Boo
Broadcaster: TLC (U.S.)
Production company: Authentic Entertainment
Executive Producer (production company): Tom Rogan, Lauren Lexton, Sara Reddy
Executive Producer (broadcaster): Howard Lee
Total Divas
Broadcaster: E! (U.S.)
Production company: Bunim/Murray Productions
Executive Producer (production company): Jonathan Murray, Gil Goldschein, Jeff Jenkins, Russell Jay (Bunim/Murray Productions), Kevin Dunn, Will Staeger (World Wrestling Entertainment)
Executive Producer (broadcaster): Damla Dogan, Missy Fox 
- From realscreen