Global TV debuts Rookie Blue before ABC stateside
In a first-ever non-simulcast for the cop drama, Global will bring 15th division back on May 19, before ABC airs the fifth season premiere on June 19.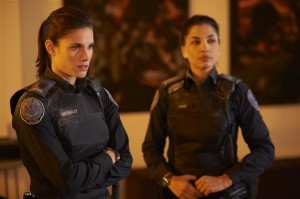 Here's a first. Global Television is to debut Rookie Blue's fifth season a month ahead of its ABC premiere stateside in the first-ever non-simulcast for the cop drama.
Global will bring back the 15th division drama from ICF Films and Entertainment One on Monday, May 19, at 10 p.m, the broadcaster said late last week.
The network had a scheduling conflict starting June 25 when the U.S. version of Big Brother launches.
So Global went with airing Rookie Blue on Mondays, beginning in May, with a lead-in from 24: Live Another Day.
The early May play for the cop drama comes ahead of ABC bringing Rookie Blue back on Thursday, June 19 at 9 p.m., a month ahead of a previously scheduled fifth season debut on July 17.
The summer airdate change stateside was prompted by ABC pushing another drama, The Astronaut Wives Club, to mid-season.