Peter Stebbings-directed short heads to Tribeca
Parachute, from ICF Films, is one of only three short films accepted into the festival's Shorts Program.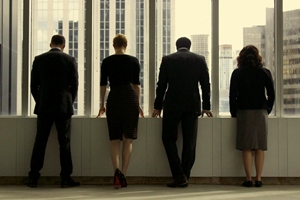 Parachute, a short film from ICF Films and Empire of Dirt director Peter Stebbings, has been added to the lineup for the 2014 Tribeca Film Festival.
The film is one of only three films that were accepted into the festival's Shorts Program.
Peter Mooney (Rookie Blue, Camelot) wrote the script for Parachute and also stars in the film, along with Cle Bennett (Rookie Blue, Flashpoint), Charlotte Sullivan (Rookie Blue, Citizen Gangster) and Tommie-Amber Pirie (Michael: Tuesdays and Thursdays, The F Word).
The film follows the story of four junior bankers who are trapped in professional purgatory.
ICF Films' Sonia Hosko produces Parachute, alongside Kevin Krikst of Toronto-based Rhombus Media. David Greene serves as director of photography and Ilana Frank executive produces. Nazgol Goshtasbpour is the production designer on the project, with Jorge Weisz serving as editor. John Rowley is composer.
Parachute received funding through the bravoFACT grant program. The 2014 edition of the Tribeca Film Festival runs from April 16 to April 27.