CW takes Backpackers web series to TV
The series, from Shaftesbury U.S. and Smokebomb Entertainment, will begin shooting additional content for the 10-episode season next week.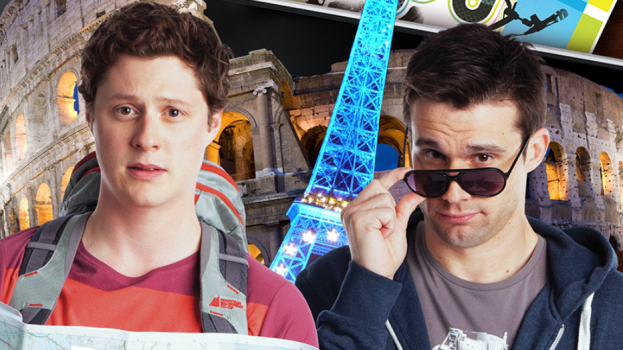 Digital platform CW Seed is moving Backpackers, from Smokebomb Entertainment and Shaftesbury U.S., to the CBS/Warner Bros.-owned CW Television Network.
This is the first time CW Seed has moved one of its web series to the CW Television Network. Additional shooting for Backpackers, a show about recent college graduates who decide to gallivant around Europe before they get married, will begin next week in Toronto and across Canada.
The series is produced by Shaftesbury U.S., Smokebomb Entertainment (a digital division of the Toronto-headquartered prodco), in association with the CW Television Network. The first four episodes of the TV show will use material from the current eight-part digital series that launched last year. The content in the final six episodes will be entirely original.
CW's mission for the Seed platform was to use it as an incubator for new talent and ideas; a way to develop and promote short-form content into ready-for-broadcast series.
And that's exactly the way Jay Bennett, producer of Backpackers and VP of digital and creative director of Smokebomb Entertainment, has been pitching projects, he says.
"Like Backpackers, all of our slate can accordion and fit together for different formats, different platforms. That's really been our focus for the last year and it certainly will be for the next slate as well," Bennett says.

Bennett is in Cannes at MIPTV, which he also attended last year. He says there's been a complete shift in thinking among buyers from previous year: Whereas before, broadcasters they weren't sure of their digital strategy, now they're saying they need original, web content.
"I've been plugging away at this with different projects and series for about 10 years," Bennett says.
"Really in the last six months the landscape is starting to shift. Digital content is now also seen as TV content because it has that type of story quality, that type of production value."
Shaftesbury has the international distribution rights for the TV series, which was jointly funded by the production company and CW. It will premiere on the TV network this summer.
"This is our first online project to travel to television and a perfect example of how digital storytellers and broadcasters can come together to incubate and migrate content across multiple platforms," said Maggie Murphy, head of Shaftesbury U.S. and one of the executive producers on Backpackers.
In Canada, the digital series was picked up last year by CTV. The TV network has not yet released the show.
- From StreamDaily 
Catch Jay Bennet, VP of Digital / Creative Director at Smokebomb Entertainment, at the upcoming Stream Market in Santa Monica, CA on June 2-3.