MIPTV: eOne closes deals for Hell on Wheels, Turn
Other titles sold at the market included Halt and Catch Fire and The Walking Dead. (Turn pictured.)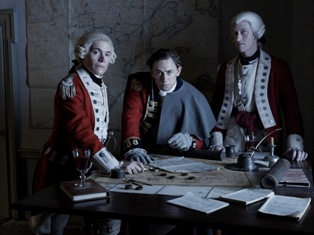 Entertainment One has closed deals for a number of AMC series at MIPTV, including Halt and Catch Fire and the Alberta-shot Hell on Wheels.
eOne sold Halt and Catch Fire and Turn to France's Canal+ and OCS, respectively. Halt and Catch Fire, Turn and the SundanceTV series The Red Road were all licensed by C More in Norway, Sweden, Denmark and Finland for the exclusive pay rights.
The three series were also picked up by the SVOD service HBO Nordic in Scandinavia, TV2 in Norway and DBS Satellite Services in Israel. eOne also sold multiple seasons of Hell on Wheels to Germany's LoveFilm and Watchever and Russia's NOW.
The Walking Dead was picked up by Media Access in Pakistan, RTL in French Belgium and TV Peretz in Russia. In addition, eOne signed a deal with Sundance Channel Global for The Red Road in a number of countries across Europe, North America and Latin America.
In the fall of 2013, eOne signed an exclusive multi-year output deal with AMC for the U.S. network's scripted content.  The agreement sees eOne handle the international distribution of all original scripted series from the AMC Networks' AMC, and SundanceTV.