Yukon invests $10K in NSI doc course
The investment will support the NSI's Aboriginal Documentary training course. (Filmmakers Jennifer Bowen-Allen, Chantal Rondeau pictured)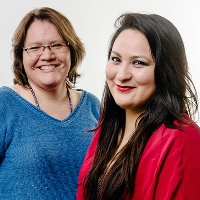 The Yukon's Film & Sound Commission has invested $10,000 in the National Screen Institute (NSI) Aboriginal Documentary training course.
The funding from the Yukon's Film and Sound Commission will directly benefit producer Jennifer Bowen-Allen and director Chantal Rondeau and their 10-minute documentary short project, Released. Both Bowen-Allen and Rondeau hail from Whitehorse.
"It really is a huge commitment from the Yukon to these incredible filmmakers from their territory," Chris Vajcner, NSI's director of communications and revenue development, told Playback Daily.
A total of four, two-person teams from across the country are participating in this year's edition of the Aboriginal Documentary training course. Through the program, each team receives cash and in-kind services of up to $16,000 for the production of the documentary.
The NSI approaches the home province or territory of each winning team for funding, but the organization recognizes that the budgets to support these kinds of projects are limited.
"We know it's not a guarantee," Vajcner said.
The course also includes a two-week intensive bootcamp that was held in Winnipeg in January.
Brendon Sawatzky of Winnipeg's Inferno Pictures is the producer advisor, and Lisa Jackson is the director advisor of the program.
The teams will also attend the Hot Docs Canadian International Documentary Festival in Toronto, with their completed documentaries airing on APTN and appearing on the APTN website. The documentaries will also be available on MTS Stories from Home – formerly known as Winnipeg on Demand – which features programming from independent Manitoba producers.