FEARnet, Bite TV acquire SOS: Save Our Skins
The U.K.-Canada coproduction from Canadian partners Duopoly, Farmhouse Productions and Smiley Guy Studios bows April 1 in the U.S. and on April 5 in Canada.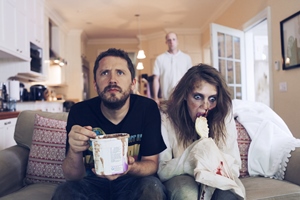 The U.S. digital platform FEARnet has acquired the comedy sci-fi adventure, SOS: Save Our Skins, a U.K.-Canada coproduction produced by Canada's Farmhouse Productions, Duopoly and Smiley Guy, and the U.K.'s Steve Coogan and Henry Normal's Baby Cow Productions.
The four-parter will launch on FEARnet on April 1 as part of its Twisted Comedy block.
Blue Ant Media's BiteTV will follow up with a Canadian launch of the coproduction on April 5.
SOS: Save Our Skins has been varied for international sale, whether as four half-hours, 13 seven-minute webisodes or a 90-minute movie.
The series follows two hapless British geeks who wake up in New York City, only to find that the entire human race has vanished.
SOS: Save Our Skins was created, written and stars the British comedy writing teams of Nat Saunders and Chris Hayward.
The series also stars Hannah Spear and Peter Serafinowicz.