BBC acquires Sidekick animated series
The deal with Nelvana Enterprises will see the first two seasons of the Canadian cartoon head to the U.K.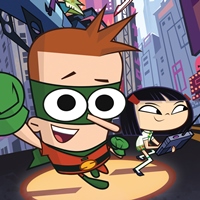 The UK's CBBC channel has picked up the kids animated series Sidekick as part of a deal from Nelvana Enterprises.
The series, created and executive produced by Todd Kauffman, portrays a superhero sidekick, Eric Needles, who moves to first string when his mentor, Maxum Man, disappears.
Sidekick, produced by Nelvana, first debuted in 2010 on YTV, before premiering a year later on the U.S.-based Cartoon Network.
The deal with the BBC will see its CBBC channel air the first two seasons, or 52 half hours, of the Canadian cartoon.