Vision to air Plummer-narrated doc from Holgate Production House
The first project from the new production company looks at assisted suicide and is narrated by Christopher Plummer. (The Trouble with Dying subject Cindy Cowan pictured)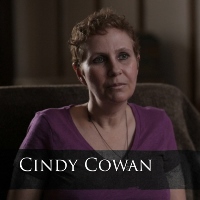 When David Holgate made the decision to do a documentary on the debate surrounding euthanasia, he knew he wanted to cast a high-profile Canadian to narrate it.
"Because it's an important Canadian social issue, having on iconic Canadian actor narrate…would be appropriate," said Holgate, executive producer on The Trouble with Dying and founder of Holgate Production House, which produced the documentary.
The production company started to consider the documentary's narrator when they started shooting it in November 2012. Christopher Plummer agreed to narrate it in the fall of 2013, with creative producer Bill Robertson heading down to Connecticut to record at a studio near the actor's home.
"He was very gracious and co-operative about the whole thing," Holgate said.
The Trouble with Dying examines the issues surrounding euthanasia through interviews with experts and advocates. It also follows the story of Toronto resident Cindy Cowan, who was an advocate for legislative change for euthanasia before she died of ovarian cancer in 2013. Parts of the documentary were also shot in Tijuana, Mexico, where assisted deaths are often performed but away from public view.
The documentary, the first production from Holgate Production House, had a budget of "north of $300,000," Holgate said. The doc was mostly privately financed with a pre-sale licence granted by Vision TV. Vision will air the documentary on April 7 at 10 p.m.
The production company is currently exploring international opportunities for the documentary, and hope to get the piece into markets with similar legal systems where the end-of-life debate would be relevant, such as the U.S. or the U.K., Holgate said. The company is also in talks with an educational distributor in Canada to get the documentary into schools.
In addition to Holgate's and Robertson's credits on the documentary, The Trouble with Dying was directed by Ken Simpson, and produced by Pat St. John.