How super fans help TV series go global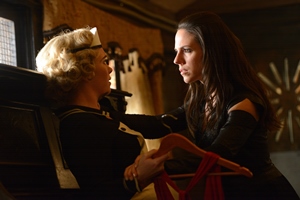 They're watching you.
They show up en masse to conventions, line up for autographs and wear funny costumes in honour of their favourite characters. They create elaborate online tributes to their beloved TV shows and spend inordinate amounts of time online discussing plot lines.
If we were talking religion, the words "cult following" take on a sinister, scary connotation. But for genre TV shows like Orphan Black, Lost Girl, Haven, Continuum, and Warehouse 13, they are the lifeblood, the early believers who provide much-needed early interest.
Orphan Black co-creator Graeme Manson has witnessed the fervent phenomenon first-hand and says online fans played a big role in trumpeting Orphan Black's existence.
"We didn't air to huge numbers," admits Manson, "but we did air to 'buzz.' And the way the online fans claimed that space and built on it was huge for us. They're a really crazy bunch."
Crazy? Perhaps, but stalwart fans that take a show to their collective bosom are a serious business advantage when they use social media to spread the love.
For a show like Lost Girl, now in its fourth season, the story about a bisexual succubus on a mission to discover her origins, avenues like YouTube and online fan tributes are key. One fan-generated Lost Girl clip compilation, "Red Dress," has over one million hits on YouTube.
"Genre shows are becoming something so much more appealing internationally now, from a sales point of view, because of the big fan base,"says Emily Andras, executive producer and showrunner of the Prodigy Pictures series.
"With a show like Lost Girl, we have fans all over the world, and I think definitely we've seen a ton of international [sales] success that I never would have expected necessarily."
It's not just restricted to genre shows, either: more conventional offerings like the CBC's Heartland, seen in 25 countries, and its historic drama Murdoch Mysteries, viewed in 120 territories, also have avid devotees, notes Bridget Hoffer, executive director, communications, marketing and brand, CBC.
"There are some shows that have an extremely hardcore fan base: Murdoch Mysteries is one. They have a fan day where they meet the cast, and the cast also participates in Fan Fest activities. And there's a huge fan base in France for Heartland."
Peter Mitchell, executive producer and showrunner of Shaftesbury's Murdoch Mysteries, can even split them into three groups.
"There are the hardcore Murdoch relationship worshippers who almost exclusively tweet about the relationship between Murdoch and Ogden, or George and Emily," he explains. "Then we have the history buffs who tweet about the historical accuracy or perceived inaccuracies. And then we have the mystery fans, which focus almost completely on the story.
"It's a good gauge, and a good thing for me to look at because I have to remember that all three components are kind of crucial," he continues. "I can tell when I'm going a little bit astray if I know the history buffs are getting disappointed or if the mystery is turning into a soap opera."
So who are these fans?
"Super fans are a unique type of influencer," explains Lisa Pasquin, group manager and VP at Vertias, a Toronto-based public relations agency. "While they may score lower on reach, their relevance and resonance scores are through the roof. This places them in a category of influencers that we call 'vested;' they have a vested interest in your success."
Lost Girl in particular has found an active, vested superfan base in international LGBT community, Andras says.
"They have a big voice and they're very active on Twitter and on social media," she explains. "It's one of the things that I'm super proud of on this show, knowing that we have a show that is so supportive of the LGBT community."
Orphan Black's Manson describes his online lot as "lots of young people, intelligent, also older – a pansexual community. I think people let their identities hang out online, whatever they may be. It may not even be their own identity, but that's cool. That's what the show's about."
However, the value of these "cult" fans to prodcos and broadcasters still seems to be somewhat intangible. Merchandise and licensing are a good gauge, but not as common for adult dramas as kids' properties.
There are Murdoch Mysteries conventions and Lost Girl live pre-show parties for some of the devoted, but generally it's the Fan Expos, San Diego's flagship Comic-Con and activities like Canadian Screen Week's Fanzone that are the real eye-openers for each show's cast and crew.
"The value of the fans is all about engagement," says CBC's Hoffer. "It's an ongoing and instant conversation. Through our Twitter account here at CBC.ca, we've had our stars tweeting during shows. It provides a lot of feedback in terms of value. It's an opportunity for us to understand how people are responding to the show."
Graeme Manson credits it with helping gauge Orphan Black's popularity.
"That's when we realized that we had caught on," Manson says of his first Comic-Con appearance in 2013. "People were screaming in the room when we walked in, totally making our jaws drop, because we weren't expecting that at all. We saw some really hilarious costumes."
But it also gave them immediate gratification that the show was working.
"We saw that some of the risks we were trying to achieve were actually working," Manson explains. "For example, that Tatiana was seamless in her transitions and really fun to watch, and that the show wasn't coming off as gimmicky or cheesy."
On a promotional level, there's no question that word-of-mouth fan interest helps offset expensive media buys as well.
"I'm sure that the networks have a certain amount of hand-rubbing strategies around that," says Orphan Black's Manson. "It only makes sense and it's what everybody's trying to do. BBC America and Space have the opportunity to increase their fan base by nurturing that online community and prompting those super fans to draw in other fans and engage them.
"But it's not free – they put a lot of work into it and they have a lot of people assigned to it. It takes a lot of creativity to be able to access a fan that way and make it work."
The return broadcasters get on that investment may not be in increased ad premiums, says Lauren Richards, principal at communications consultancy Pollin8. But advertisers do recognize the value of a passionate fan base, she says.
"The passion of a super fan evidenced through their social media activity is contagious and at the very least awareness building, which has huge value to producers and networks to help determine the ultimate success of a property," she says.
And as social analytics improve, the value proposition of super fans will become clearer. Nielsen, for example, has introduced Social Guide to the U.S. market, a social TV and analytics service that captures real-time conversation on Twitter about every program on over 250 U.S. TV nets. No word yet on when the service will come to Canada but if it does, it would provide an inside look at just how powerful a cult can be.
CORRECTION: In the print version of this article, Peter Mitchell was incorrectly identified as Peter Meyboom. Playback regrets the error.