Enemy, Call Me Fitz win big at final night of 2014 CSAs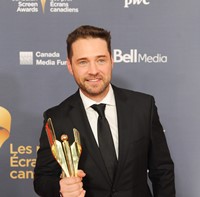 Denis Villeneuve's Enemy took home five trophies on the final night at the Canadian Screen Awards on Sunday, while Call Me Fitz lead the television field for the night with three Screenies, including best comedy.
Villeneuve picked up the award for achievement in direction for Enemy, a Spanish-Canadian coproduction from Spanish prodcos Roxbury Pictures and Mecanismo films and Canada's micro_scope and Rhombus. Charmingly, Villeneuve wrapped his many thank-yous with an unconventional ode to his family: "I would like to thank my parents for my subconscious," he quipped.
The dark thriller, starring Jake Gyllenhaal, also picked up wins for achievement in cinematography, achievement in editing, achievement in music – original score and performance by an actress in a supporting role for Sarah Gadon.
In addition to the series' win for best comedy program or series, Call Me Fitz stars Jason Priestley and Tracy Dawson won awards for their performances in the TMN/Movie Central series (best performance by an actor in a continuing leading comedic role, and best performance by an actress in a continuing leading comedic role, respectively).
Elsewhere, Temple Street Productions' Orphan Black won the award for best dramatic series, with Tatiana Maslany taking home the prize for best actress in a drama. The series won a total of 10 awards over the three nights of CSA galas this week. (On Friday, it was also announced BBC Worldwide North America had inked an exclusive online-only SVOD deal with Amazon.com for the sci-fi series to be streamed on Amazon's Prime Instant Video service.)
Rick Roberts was recognized for his performance in the CBC biopic Jack, and Flashpoint's Hugh Dillon won for best actor in a drama series. CBC Radio personality and actor Sook-Yin Lee was also honoured for her portrayal of Olivia Chow in Jack, winning the award for best performance by an actress in a leading role in a dramatic program or mini-series.
"I was very lucky to have real-life source material to draw from," Lee said, referring to the work she did with Chow to prepare for the role.
On the unscriped/news/reality side, Lisa LaFlamme took top home best news anchor for her work on CTV National News, while Michael Buble picked up a trophy for his turn at hosting The 2013 Juno Awards. CBC's Dragons' Den picked up the award for best reality series.
While Enemy took home the most awards in the film categories, the best feature prize went to Gabrielle from micro_scope's Luc Dery and Kim McCraw. First-time actor Gabrielle Marion-Rivard was also recognized for her performance in the film, taking home the best film actress against a stacked field that included Cas & Dylan's Tatiana Maslany and Empire of Dirt's Cara Gee.
In other film performance categories, Gabriel Arcand won the award for best film actor for Le Démantèlement/The Auction, while Gordon Pinsent won for his supporting role in The Grand Seduction.
In addition to the Golden Reel award, given to the Canadian film that brings in the most at the Canadian box office, Don Carmody's The Mortal Instruments: City of Bones won for achievement in make-up, achievement in sound editing, achievement in overall sound, and achievement in visual effects.
Empire of Dirt's Shannon Masters took top honours for original screenplay, and The F Word's Elan Mastai won for best adapted screenplay. The prize for achievement in music – original song went to The Right Kind of Wrong for the Jimmy Harry and Serena Ryder song "It's No Mistake."
Louis Cyr: The Strongest Man in the World (Louis Cyr, l'homme le plus fort du monde), a historical biopic from Daniel Roby, won for achievement in art direction and achievement in costume design. The prize for best animated short went to Subconscious Password, and best live action short drama was awarded to Noah.
In the documentary field, Jennifer Baichwal and Edward Burtynsky's Watermark won for best feature length documentary, while Chi won for best short documentary.
Director David Cronenberg was also awarded the 2014 Lifetime Achievement Award, with Viggo Mortensen praising Cronenberg for his body of work and expressing his disbelief that the director had never been nominated for an Oscar.
"I think we're definitely doing the right thing here tonight," Mortensen said before presenting the award to Cronenberg.
Related: Orphan Black, Degrassi win big at second night of 2014 CSAs; 2014 CSAs: Night one sees a not-so-secret sweep and 'Race' to win