#AcademySocial fetes Canadian social media innovators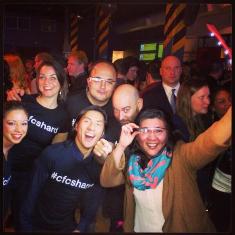 What at first seemed to be a cryptic invitation – a hashtag-themed CSAs party – turned into a highlight of Canadian Screen Week with the launch of the inaugural #AcademySocial event.
Co-hosted by the Academy of Canadian Cinema and Television and Toronto-based Bristow Global Media (BGM), the social-media-themed awards and event was held in downtown Toronto at The Hoxton.
With social media themed activations – including a Google Glass activation from the CFC – and plenty of prompts to tweet/Instagram party pics and comments, the night also handed out five awards for social media innovation and served as the launchpad for the announcement of a new social media innovators incubator from BGM.
Feted during the evening were: Sh*t Girls Say's Kyle Humphrey and Graydon Sheppard; Chris Hadfield's "Space Oddity" stream from the International Space Station; #ASAPScience: The Chicken or the Egg from Gregory Brown and Mitchell Moffit and Robyn Doolittle's Rob Ford reportage. Also recognized was Elaine Lui of Laineygossip.com, and CTV's The Social and Etalk (who joked, as she took the stage "I've always wanted to say this: Thank you to the Academy!")
"We wanted to create an event around Canadian Screen Week that will help position the Academy and the industry as inclusive to content that exists outside traditional streams," explained Bristow, a former CBC programming executive who founded her own prodco (BGM) last year.
Bristow, who sits on the Academy's board and has been "very involved" with the Canadian Screen Awards, took a personal interest in the idea of expanding the Academy's scope outside traditional film and television. Since launching BGM, she says she has wanted to ensure the company kept the pulse of projects outside traditional television and sought ways to make traditional entertainment more engaging and inclusive. And as the #AcademySocial idea grew, so too did her interest in formally getting BGM more closely tied to the creative community outside traditional channels.
As such, she has unveiled plans for a "social media innovators incubator."
"In this universe, good ideas come from everywhere," she said. "We want to be connected with people who have ideas that can be developed for any screen – all screens – and say 'let's talk about these ideas.' Because we've seen so much content out there that's not necessarily developed in traditional ways and we want to be plugged into that."
The new venture is set to come online this month and will likely be a web-based portal through the BGM site that allows content creators to submit ideas for review to the BGM team.
The idea is not, Bristow stresses, to set up an application-style process in the style of a funding body, but to connect the right people, ideas and partners to make an idea come to life.
"I think the future is multiple partners and I think the partnerships are going to take all kinds of shapes and sizes," she said, citing as recent examples deals BGM has done with iTunes and U.S.-based The Daily Beast.
And as such, she wants BGM and the people it works with to keep an open mind.
"I really want [BGM] to be interacting and engaging with people that are thinking in new ways about content creation. I'm not interested in saying give me your social media idea and we'll make it into a TV show – that's outdated thinking."