The awards effect: how winning can impact the bottom line
From our print issue: Can you quantify a Canadian cultural award win? Playback looks at how winning a film or TV award differs from book and music prizes. (Kim Nguyen pictured)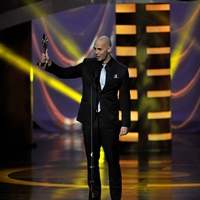 The early January morning is a particularly glamorous one at The Ritz-Carlton hotel in Toronto. Canadian talent and industry folks are packed together, a dozen television cameras are lined in a row and actors Katheryn Winnick and David Sutcliffe smile broadly from their podiums as they reel off the long list of nominees for the 2014 Canadian Screen Awards.
As the names are announced, applause and cheers fill the air and nominees gather at the front of the room, arms around each other, cameras flashing in their faces.
"This is how people kick-start the rocket ship that hopefully becomes their career," Helga Stephenson, CEO of the Academy of Canadian Cinema and Television, told Playback ahead of the nomination ceremony.
If careers are made, is there money to be made too? Can one quantify film or TV awards in the same way one does a Giller book prize or Juno music award?
A Giller Prize-winning book, for example, can generate triple-digit retail sales growth. Will Ferguson's 419, the 2012 prize winner, experienced an 803% increase in sales following the win, according to BookNet Canada.
The relatively new Polaris Music Prize, launched in 2006, recognizes indie artists; the indie-er the artist, the bigger the possible sales boost. After Godspeed You! Black Emperor won the 2013 prize, their album Hallelujah! Don't Bend! Ascend! jumped 2400% in sales, says Steve Jordan, executive producer and Polaris Music Prize founder.
And the nationally broadcast Junos, (which, like any major awards show, tend to focus on more established artists), can help indie artists reach a wider audience. A week after indie band Monster Truck won a 2013 Juno for breakthrough group of the year, its two-year-old EP jumped to #123 from #153 on the Nielsen Soundscan top 200 albums in Canada chart.
But for film and television, which is less about retail shelf space and more about views and ticket sales, what does an award nomination or win mean?
The marketing value of a nomination would seem obvious, given how heavily Oscar nominations and wins are marketed by U.S. studios and distributors. (Estimates have pegged the worth of a best picture nomination at $3 to $7 million at the box office.)
And the Canadian Screen Awards changed its best picture qualification regulations in 2012, allowing films screened at festivals, but not yet theatrically, to enter the awards race, creating a new opportunity to market the recognition.
But it's been hard to assess whether or not Canadian film award nominations influence consumer behaviour, says Hussain Amarshi, president and founder, Mongrel Media.
Last March, the Mongrel-distributed War Witch (Rebelle) swept the film categories, winning 10 awards including best film, best direction, best director and best screenplay. But by the time the film won its CSAs, it was already in its home entertainment window and was nominated for an Oscar.
"It's very difficult to identify which one was the main driver," he says.
Mongrel Media does use Canadian arts awards in its film marketing, but Amarshi notes there's "no real way to measure the effectiveness of any award in general."
Still, an award win can help extend the life of a film after its theatrical run. When 2006′s Bon Cop, Bad Cop won the Genie Award for Best Motion Picture, it was in its post-theatrical window, notes Kevin Tierney, president of Park Ex Pictures, which produced the film.
While he's not sure the award had a quantifiable effect on home entertainment sales, he says any extension of the promotional life of a film is welcome and it can help draw viewers to pay-TV broadcasts.
And, given the industry's small size, the kudos are important.
"We need as many opportunities of celebrating our success and the quality of our work as possible," he says.
Montreal-based micro_scope has been on an awards hot streak for several years, racking up nods for 2011′s Monsieur Lazhar and 2010′s Incendies.
While nominations seem to help raise the profile of a film, the measurable effect is moreso on people's careers than on distributors' bankroll, micro_scope founder and producer Luc Déry notes.
"I would say that's the main reason why we register all of our films that are eligible," he explains.
However, Déry also says Genie wins seem to help French-language films cross the divide into English Canada.
On average, he says, micro_scrope's French-language films earn less than $100,000 at the English box office. But Genie- award winners Monsieur Lazhar and Incendies both pulled in more than $1 million in the English Canada market, a success Déry partly attributes to the Genie awards – the other part being, of course, both films' Oscar nominations.
"I think it would be reasonable to assume that the Oscar nomination had more impact than the… Genie wins," Déry admits.
On the TV side, Canadian award recognition does help in selling shows to new markets, says Mark Bishop, co-CEO of marblemedia. In sales pitches, marblemedia will lead with ratings numbers, followed closely by award wins, he explains. However, a slew of accolades will not necessarily "push it over the edge" when it comes to making a sale.
"It's a great calling card, but the quality of the program is really what will close the deal," Bishop says.
Quantifying the value of an award nom or win in terms of increased viewership is also tough, given the delay between wins and broadcast schedules – but what can be easily counted is the value of earned media.
At the CBC, which broadcast the CSAs and earned a slew of nominations for its shows, that value topped $1 million, says Bridget Hoffer, executive director communications, marketing and brand, CBC.
In addition, the first Canadian Screen Awards ceremony saw a 76% increase in viewers over the Gemini Awards the year before, and a 100% increase over the Genie Awards broadcast, Hoffer says. Canadians were interested, and tuned in.
"We are becoming part of the awards season in a much more significant way," Hoffer says.
John Wimbs, director of publicity and public relations for the CBC, says he feels the rebranded CSAs have greater potential to shape public opinion.
"There feels like in the past couple of years there's been a shift towards the public embracing the idea that Canada is ready to have an award that is embraced by consumers on many levels," Wimbs says.
Photo of Kim Nguyen courtesy of academy.ca/G. Pimentel Photography