Orphan Black, Degrassi win big at second night of 2014 CSAs
A raft of trophies for its scripted series, including The Borgias and Borealis, makes it a winning night for Bell Media, which took home 27 Screenies.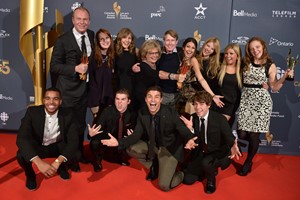 Bell Media was the big winner Wednesday night at the Canadian Screen Awards, as series like Orphan Black, Degrassi and The Borgias dominated the prize-taking.
The top-rated broadcaster snagged, in all, 27 Screenies, helped by Orphan Black grabbing eight trophies, including best drama direction for John Fawcett, a best supporting dramatic actor win for Jordan Gavaris, and best supporting dramatic actress for Maria Doyle Kennedy.
"It's been a roller coaster ride ever since Orphan Black started," Fawcett said while accepting his award.
Natalie Lisinska also won for best dramatic guest role for her performance in Orphan Black, a series that goes into the national kudosfest with a field-leading 14 nominations.
While accepting his award for best writing in a dramatic series, Orphan Black writer, creator and executive producer Graeme Manson thanked Temple Street Productions for the faith the company had in the series from the start.
"Ivan and David, you guys said yes out of the gate," Manson said, referring to Temple Street co-presidents David Fortier and Ivan Schneeberg.
MuchMusic's Degrassi (pictured) drama won four trophies, including best kids or youth fiction series, best kids or youth series direction for Stefan Brogren, best kids or youth series writing for Ramona Barckert, and best kids or youth fiction performance for Dylan Everett.
Space's Borealis won for best dramatic miniseries, best dramatic program or miniseries writing, and best original music score, awarded to Tom Third.
"I woke up and thought – should on work on my speech for a few minutes, or go shopping for clothes?" joked a visibly surprised Third.
Elsewhere, Bravo's The Borgias won for best international drama and best dramatic program or series sound.
Other multiple winners as pre-telecast Screenies for drama, kids, youth, comedy and variety series were handed out in Toronto included TMN/Movie Central's Less Than Kind earning four prizes: the best comedy direction trophy, the best supporting comedy acting prize for Nicholas Campbell, best comedy photography and best comedy picture editing.
And the CBC's The Rick Mercer Report won for best variety or sketch comedy, best variety or sketch comedy performance for Rick Mercer and best variety or sketch comedy direction.
The Canadian Screen Awards will climax Sunday night with a gala ceremony to be hosted by Martin Short and to air on the CBC.
A full list of winners from the first two nights of the awards can be found at the Academy's website.
- with files from Julianna Cummins