2014 CSAs: Night one sees a not-so-secret sweep and 'Race' to win
Toronto's Secret Location sweeps the cross-platform category, The Amazing Race Canada takes three trophies and APTN's We Were Children wins two.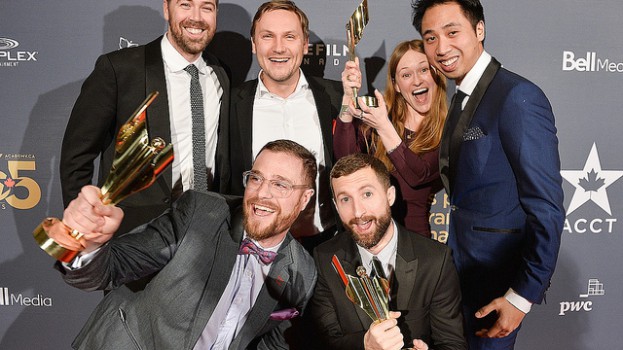 The best in Canada's digital, documentary, lifestyle, reality and news and sports were honoured across 52 categories Tuesday night as the 2014 Canadian Screen Awards kicked off in Toronto.
Toronto-based digital agency Secret Location (pictured with Continuum Interactive team) were one of the big winners of the night, taking the stage three times in a row to accept all three of the awards in the cross-platform division and prompting presenters to inquire as to whether agency founder James Milward would "just like to stay up there" for the duration of the category.
Milward graciously deflected praise to his team and broadcast partners for the three projects, which included The Amazing Race Canada Interactive (best cross-platform project – non-fiction), The Next Step Interactive (best cross-platform project – children's and youth) and Continuum Interactive (best cross-platform project – fiction).
The Amazing Race Canada win was one of three for the hit reality show, which was produced by Toronto-based Insight Productions and aired on CTV last summer. The series also took home best writing and best photography awards for a lifestyle or reality/competition program or series.
Other projects taking home multiple awards included I Am Not a Rock Star, a CBC documentary which took home best picture editing (documentary) and best performing arts or arts documentary program; APTN's We Were Children, winning best photography and best sound for a documentary or informational program; Museum Secrets, a History Channel Canada series which earned best factual program or series and best picture editing for an informational program or series; and the CBC's The War of 1812: Been There, Won That for best host or interviewer in a news information program or series and best writing for a documentary program or series.
Digital awards also went to Space Janitors for best webseries (fiction), CBC Music Presents: The Beetle Roadtrip Sessions for best non-fiction webseries and Ruby Skye P.I. for best original interactive production produced for digital media.
And also in the documentary category were wins for Ann Shin for best direction in a documentary series for The Defector; Barry Stevens for best direction in a doc series for War Story and best original music for a non-fiction program or series for West Wind: The Vision of Tom Thompson.
Over 50 awards were handed out on night one of the week-long festivities, which continue tonight at the Sheraton Hotel in Toronto.
A full list of winners, including news and sports, can be found the Academy website.