Fort McMoney comes to life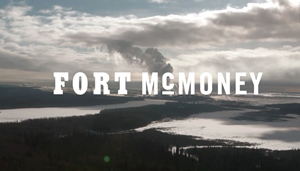 As highly engaging subject matter goes, the Canadian oil sands are a pretty safe bet for an evolving storyline.
At least so decided the NFB, which selected the town of Fort McMurray, Alta., the heart of the oil sands industry, as the inspiration for its immersive docu-game, Fort McMoney.
Launched last November by the NFB in partnership with Montreal mediaco TOXA and Franco-German TV network ARTE, Fort McMoney provides an intriguing template for large-scale immersive games.
The project budget was $872,000, of which $471,000 came from TOXA via the Canada Media Fund, $270,000 from the NFB and ARTE the remainder. The Globe and Mail and Radio-Canada are on board as media partners.
Fort McMoney is a tri-lingual virtual world in which players are asked to make decisions that affect the fate of the economy and the environment as they relate to the oil sands.
As far as the true definition of transmedia goes – storytelling across mediums in which participants can affect the outcome of the storyline – the game is true-blue. Each "episode" or round of gameplay engages participants in debate and discussion and culminates in a game-changing referendum.
Additionally, always-evolving events in the real world influence players' decisions. Case in point: in the third week of the game's last round, the federal government approved an expansion of Shell's oil field operations in Alberta, igniting furious conversation amongst players.
In a December blog, the game's creator David Dufrense described the almost-chilling nature in which fiction and reality started to merge: "All week long, the news – the real news – about Fort McMurray was catching up with the increasingly less virtual news about Fort McMoney.
All week long, the accounts of our protagonists took on a peculiar tone, somewhere between urgency and seriousness. More than ever, Fort McMoney had become a serious game."
Fringe as it may sound, the game has proven adept at engaging Canadians.
Between Nov. 25 and Dec. 22, 309,000 unique visitors populated Fort McMoney – more than triple the actual population of Fort McMurray – making over 350,000 site visits. In addition, 1,869 players engaged in the four debates featured in the game and presented more than 5,300 arguments.
Dufrense and Globe and Mail writers Eric Reguly and Margaret Wente also blogged alongside (Dufrense on The Huffington Post Canada) and coverage of gameplay was included in the Globe and Mail's print and online editions.
And finally, Fort McMoney also made its mark on social media, with nearly 5,000 tweets mentioning #FortMcMoney or @FortMcMoney posted throughout the first round of the game.
The second round of Fort McMoney launched Jan. 27 and culminated on Feb. 23, 2014.