Transmedia: Bloody good business? Part 2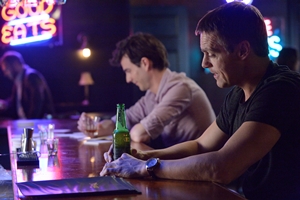 This is the second of a two-part feature originally appearing as a feature in our Spring 2014 print issue; Part 1 can be viewed here. 
By Jeff Sanford
[Cont'd from Part 1]
Ownership and exploitation are thorny issues in the space. Expanded digital platforms have meant production companies like Shaftesbury and Mosaic are finding new homes for their content all the time. But the challenges of selling transmedia internationally mean that producers are often limited to one-time paydays.
For Bell New Media Fund-funded properties, electronic sell-though (read: iTunes, etc) revenues must be shared with production companies. But SVOD services like Netflix (in which users don't download, only stream) don't fit neatly into the EST box and debates about revenue share are emerging, says Bell Fund director Andra Sheffer.
"This stuff is sorting itself out right now. It's a messy situation," she admits.
Given that ROI on traditional made-for-broadcast dramas in Canada isn't huge – on average 5% – she says, expectations for revenue generation in the emerging transmedia space should be modest.
Even for digital media producers who specialize in the space, the definition of ROI is currently quite broad.
"They are developing a skill base, new talent, and building their companies," Sheffer says. "They have track records to demo their material to international clients. They can make money on digital content if they are hired to version online platforms for international markets. They create underlying engines and technology that can be licensed to other producers and for use on future projects."
This is a viewpoint currently being embodied by Toronto-based Secret Location, one of the leading digital media shops in the country. It has produced digital extensions and standalone projects for Shaw Media, Bell Media, NBC, IFC, the NFB and more. In 2013, it produced the digital and online infrastructure for Big Brother Canada, which aired on Shaw Media channel Slice.
One element, the "Power Play" social prediction online game, allowed fans to earn and spend points for interactivity. Secret Location developed and managed a customized content management system to keep the project running smoothly.
The project generated record numbers for Slice.ca, with an average of 2.5 million page views a week. But perhaps more importantly for Secret Location, which, as digital producer, holds the digital IP rights to the execution, was the opportunity to develop new skills and proprietary tools for future use.
Creation of proprietary or custom platforms streamlines work on future projects, increasing margin on fees. Taking the revenue opportunity further is ownership. Secret Location's Great Martian War app for example, a digital extension of History Channel's original film of the same name, was developed and owned by Secret Location and financed in part by the Bell Fund and series license fee. The app is built on a freemium model with in-game currency packs ranging from $.99 to $49.99.
Because of the complexity of transmedia's place in the television ecosystem, simply saying it is or isn't profitable is impossible, said James Milward, founder and executive producer, Secret Location. Intangible effects like audience dedication are difficult to quantify. What's clear is stakeholders increasingly want to know what they are getting out of it.
"It is make or break in industry right now," he says of transmedia's place in the broadcast ecosystem. "Increasingly you have to demonstrate how transmedia can relate to profits. Everyone is trying to figure out value of digital platform and how that relates to revenue. Producers and broadcasters are trying to turn this user behaviour into an investment return."
Carrie Cutforth-Young, transmedia producer and executive director of the Independent Web Series Creators of Canada (IWSCC), says the issue of real return has given transmedia a bum rap in recent years.
"There has been a tendency in the past toward a 'throw money at it' approach, and that is where transmedia has gotten somewhat of a negative connotation," she notes.
"Transmedia will never be a one-size-fits-all business model… at its core, it is essentially franchising," she continues. "What does not work is trying to make it live on every platform. Understanding your target audience, how they behave and where, and what kinds of ancillary products they consume should form the basis of any business strategy."
At Canada's biggest conventional broadcasters, which have been as guilty as anyone of a "see what sticks" approach in the past, transmedia extensions – including web series offshoots for dramas or games – are seen as potential audience builder.
"The broadcasters realize this is about creating and keeping audiences," says Sheffer. "The young audience is always online now. This keeps the community together and loyal between seasons. It has to be there."
CTV has recently released web series extensions for original dramas Played (Interference) and Saving Hope (Last Call). Both were created to attract new and different audiences to the property, Chris Skinner, executive producer, CTV.ca, says.
"Last Call or any other digital series that is an extension of one of our broadcast series… allows us to appeal to new and different viewers as well as fans of the broadcast series, but they're not viewed primarily as a marketing tool," he says.
The network won't release metrics for its online series – its official position is that "unlike linear TV audience data, there is no industry standard for reporting digital audiences, leaving no context for the numbers."
However, Skinner says CTV sees revenue potential for webseries through advertiser support – including display ads, pre-roll and sponsorship. Given the current inability to measure broadcast audience apples-to-apples against online impressions, web properties and digital ads offer new ways for CTV's clients to mix up their media buys, says Nancy McConnell, VP, digital sales, Bell Media.
"Rather than try to align two different user experiences, measurements and metrics, we're finding that many of our clients see value in testing and measuring the impact on their brands by mixing the mediums," she says.
And as online programming options grow, the network expects viewership to increase, says Skinner.
"We'll be ramping up our digital series offerings – both acquired and original," he confirms.
One criticism often levelled at the big broadcast world is how transmedia, or multi-platform, projects, are integrated into the development and production process. Specifically, that digital is an after-thought and to be done properly, has to be supported from the seed of an idea.
"This stuff needs to be built in and thought out right from the beginning. The budgeting has to be done from the start, with one person overseeing the entire creative process," says J. Joly, founder and CEO CineCoup/dimeRocker, which has helmed digital projects including the Heartland Ranch social game and Kraft Hockeyville social app. "There is too much friction. I have to go around and get too many cheques."
"If the goal is cash money [for producers], it is still early days," he adds. "We haven't seen that yet in Canada. It is baby steps. It's like the web strategy in the 1990s and early 2000s. If you want to address the underlying issues, stop paying lip service, do it right from the very beginning."
While frustrations abound and the waters remain murky, the one point no one disagrees on is the place multi-platform has in the content-creation ecosystem. As Mosaic's Rebalkin says, transmedia represents the new normal.
"We're trying to find that sustainable business model. That's our next step. But we're optimistic. There are no boundaries, no borders online. We're here to stay. It's not something that can be ignored. This is how you have to reach viewers today."